The infield shift is not itself a new concept, in fact it dates back to the 1920's. As far back as 1946, Ted Williams was facing defensive alignments swiftly recognisable as an extreme form of the modern infield shift. Over the last few years though, teams have begun employing the shift with greater frequency and against a wider range of batters. So much so that in 2014, the calls for banning infield shifts have echoed louder than ever before, getting nation-wide media coverage.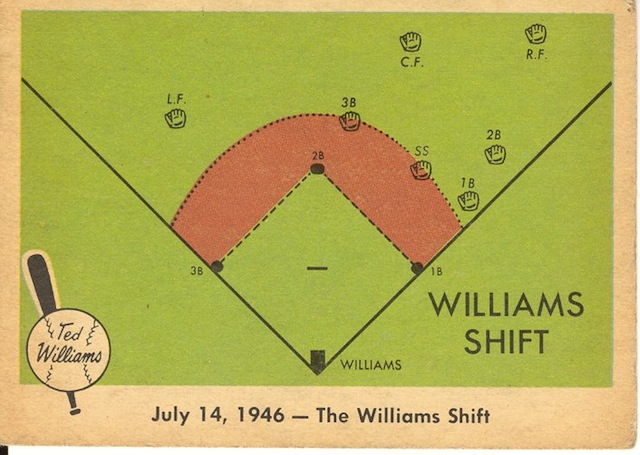 Image: Beckett Marketplace through CBS Sports. 


Verducci's column linked above explores the significant and increasingly measurable impact the shift has had on batted average on balls pulled into play by left-handed power hitters specifically. The argument for a rule change to counter the shift is an interesting one to have, I'm personally against such a change, but in either case it does not appear to be on the cards for a MLB rule review, for 2015 at least.
This has a clear impact on the New York Yankees lineup for next year, a lineup that will feature Brian McCann, Mark Teixeira and Carlos Beltran as key middle-order bats. All three have a clear tendency to pull the ball when batting from the left side - Teixeira and Beltran are switch-hitters - and so will on occasions face shifted defenses.
 Image: Fangraphs
Right from the start of 2014, Brian McCann started seeing shifts at a higher frequency compared to his time with the Atlanta Braves. This likely had an impact on his slow start to the year. Of all players on the Yankees, McCann was probably most affected in 2014, with Teixeira having seen regular shifts during the bulk of his six seasons on the team.
Ultimately McCann rebounded from his 69 wRC+ April to post a 92 wRC+ mark for the year and he was nearly an average hitter. Perhaps not quite what the Yankees had paid for, but certainly not awful from the catcher position. Looking at his batted ball profiles over the last three seasons, particularly on line drives and home runs, it's clear that the bulk of his power is to his pull side. So are his groundballs, which are where the shift hurt him, but for all the talk of McCann trying to beat the shift this year, if anything his 2014 spray chart shows heavier lean towards his pull-side than in 2012 and 2013.
Enter Jeff Pentland. On a conference call with reporters last Thursday, the new hitting coach discussed the possibility of working with hitters towards adopting an approach towards using the entire diamond, particularly up-the-middle, as a way of countering a shift predicated on taking away pulled groundballs. This is certainly an interesting idea, though ideally one applied only if there is a way to limit power loss for players like McCann and Teixeira who provide a significant part of their offensive contribution through pull-power.
Pentland's comments suggested that his first priority is for Yankee hitters remain comfortable with their mechanics at the plate, mechanics which along with their athletic ability was what got them to the big-league level in the first place. To this end he and assistant hitting coach Alan Cockrell will discuss ideas and options with individual players and work on modifying their approach only if the player expresses interest. Even then, only in spring training, thus limiting the possibility of any experimentation with swing mechanics causing unwanted slumps during the regular season.
This approach certainly seems to be a logical one. Pentland will be around to help Yankee hitters work on any perceived flaws on their mechanics, but he won't attempt to force his ideas on unwilling players. It is after all, the player's swing, and these are major league hitters with a track record of success. The first rule here seems to be 'do no harm,' though Pentland does say that should Yankee hitters make no adjustments whatsoever, he would have failed at his task.
With this overall mindset, I find it easy to see why hitters who have worked with Pentland in the past have a high opinion of him. While I'm hoping to see McCann and Teixeira make minor changes to their approach, without abandoning their pull-power, I wouldn't be surprised to see 2015 spray charts that are similar to their 2014 ones. I'll personally be looking for small but hopefully measurable improvements next season by Yankee hitters in general, with the advice and support of Pentland and Cockrell.