Record: 4-3 (3-1 against the Rangers, 1-2 against the Blue Jays)
The Yankees' week got off to a good start against Texas, and while they may have lost a totally winnable game in Game 1 (young righty Miles Mikolas was sporting a 10.05 ERA coming into New York) they still managed to take the series against the Rangers, winning the last three games.  Those wins included a thrilling 14 inning victory, as well as a rare triumph over Yu Darvish (2.80 FIP in 2014) in a game shortened to just five innings due to a horrendous deluge.  While they carried some of this momentum into the series against Toronto, taking the opener 6-4, some poor defense and mediocre relief pitching cost the Yankees the next two games, giving the Jays their first series win in the New York since 2012.
Quick hits:
Cervelli's huge week - Francisco Cervelli had a monster week, hitting .391 over the past six games with four doubles and a home run.  He now has a seven-game hitting streak, and this hot streak could be coming at the perfect time for the Yankees, as Cervelli appears to be garnering some interest on the trade market. While Cervelli has never been that good at the plate, he's never been a terrible hitter either - a lot of teams would gladly take a catcher with a lifetime 97 wRC+.  With his decent track record and recent hot hitting, now could be the perfect time to trade Cervelli.
Shane Greene's shame - Shane Greene had an absolutely dreadful defensive game on Monday.  Greene made three errors in the same game, helping the Texas Rangers to their 4-2 win, and making one miscue in particular that will no doubt be on everyone's list of the worst plays of the 2014 season.  Instead of discussing any of them, let's just bask in their terribleness: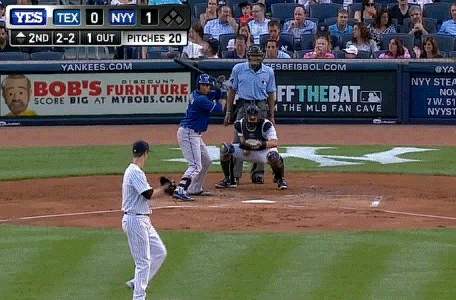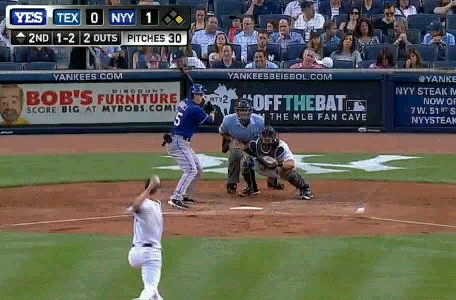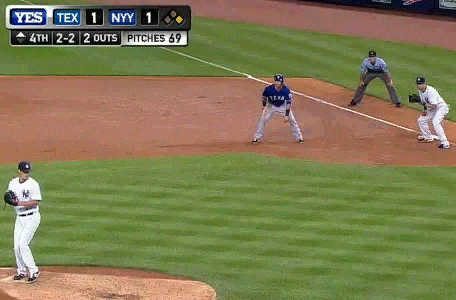 Credit: CBS Sports
Yeesh, Shane.
Position Player of the week:
Chase Headley
This could easily go to Cervelli, but since Headley got a walk-off single in his first game as a Yankee, he gets the nod.  Headley has been on fire since he got traded to the Yankees from San Diego, getting a hit in each of his first six games.  After hitting for a 122 wRC+ in the first three weeks of July with San Diego, he's hit .348/.565/.913 since arriving in the Bronx, and has added some stellar glove work at third to his hot bat.  He'll be an improvement in the field and at the plate, and looks like another terrific Ninja Cash move.
Pitcher of the week:
Brandon McCarthy
The other new Yankee recently acquired by Ninja Cash, McCarthy has looked quite good in his first three starts in pinstripes.  In those three games, he's given up just three earned runs in almost 19 innings, amassing 17 strikeouts as well.  In the series finale against the Rangers, McCarthy threw six innings of one-run, four-hit ball, keeping the Yankees close until the offense finally got going in the fourth and fifth innings.  We all knew McCarthy wasn't as bad as his stats in Arizona, but he's looked like a steal so far, and is without a doubt an upgrade over Vidal Nuno.