Those two victories to capture a series win against the Astros were nice, but the Yankees made sure that the good feelings won't last and reminded us that all these games are for naught by dropping the first game against the Tigers yesterday. In a way it's nice to be back to "doomed" territory as it keeps us fans grounded. I'm sure to keep rooting for the Yankees, but there's really no point. What's the point to anything? I'm going to go eat Arby's.
In non-Yankee doomed news, thoughts go out to the Cubs' Kyle Schwarber as yesterday it was revealed that he will be out for the year with a torn ACL and LCL in his left knee. This is without a doubt sad for Schwarber, his family, the Cubs, their fans, and baseball fans in general as good young players are what keep the game going. Hopefully the feel-good stories of 2017 will be when Schwarber and Greg Bird win Comeback Player of the Year awards.
Speaking of feel-good Stories, the Rockies' shortstop Trevor Story is certainly writing his own story in the MLB history books as he continues his vendettas against baseballs. He became the first player in MLB history to hit six home runs through his first four games, and is now on pace for a 243 home run season.
At this rate, Trevor Story would pass Barry Bonds in about the 4th or 5th inning of the 125th game is his 4th season.

— Long Time Listener (@ltl27) April 8, 2016
Who says he can't do it?
Comments of the Day
Maybe he's a time master like Rip Hunter so he saw that Severino becomes nothing, but unless that's the case, Andrew's right. You really can't tell anything.
GIF of the Day
DEFEAT!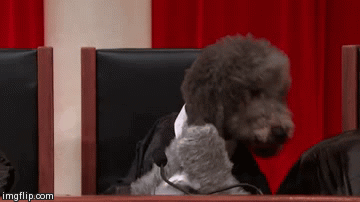 If Victor got his own category the other day, Carloss get's the same.
Honorable Mod Mention
Andrew wins for getting yesterday's only COTD.
Fun Questions
Any exciting plans for the weekend?

What's something you want to try but haven't yet had the courage to do?
Song of the Day
Enter Sandman by Metallica
It's the end of Opening Week on Pinstripe Alley. Otherwise known as the closing of Opening Week. And if we're closing something out, the only song to use is the greatest closer in history's entrance music, right? Thought so. And yes, listening to this song made me sad again as well. Miss you, Mo. As always, please link us your song of the day.
Feel free to use this as your open thread for the day. CC Sabathia and the Yankees will face Mike Pelfrey and the Tigers at 1:10 pm. Thanks to Luis Severino's short outing yesterday, my prediction that Sabathia will be the first Yankee starter to make it into the 7th lives on. Rooting for ya, big guy!