Unfortunately for anyone who took off from work yesterday to either watch or attend yesterday's Opening Day, Mother Nature decided that she didn't like you and made it rain. And not in the fun slang way of throwing dollars around everywhere. Fortunately though, what that does mean is that they Yankees didn't lose yesterday, so rejoice! Also fortunately, the forecast seems pretty clear for today so the Yankees should be able to have their Opening Day today.
Masahiro Tanaka is still scheduled to start against Dallas Keuchel and the Astros. Even though his start was pushed today and it was raining almost all day, Tanaka still made sure to get his work in so he could be sharp and ready for today's start.
Sorry for the meh video, but there's #TanakaTime playing catch in the rain pic.twitter.com/DkrBgY4Mqp

— Bryan Hoch (@BryanHoch) April 4, 2016
Way to weather the storm. The lineup was already set yesterday and Joe Girardi will likely send the same lineup out with Brett Gardner sitting against the lefty.
What the #Yankees lineup would've been: Ellsbury cf Hicks lf Rodriguez dh Teixeira 1b Beltran rf McCann c Headley 3b Castro 2b Gregorius ss

— Bryan Hoch (@BryanHoch) April 4, 2016
I wouldn't read too much into Ellsbury playing over Gardner as they'll both see time-off against lefties. Even Beltran will get in on the rotational action really.
Even though they didn't play yesterday, some of the Yankees at least found something to do. Andrew Miller, for instance, at least has a second job that keeps him busy.
"PSYCHHH!"
And while throwing some shade to the rain, at least A-Rod got to get in some Bikram Yoga to clear his mind.
At least yoga doesn't get rained out. Hopefully we can play ball tomorrow. pic.twitter.com/XP6BSNalzH

—

Alex Rodriguez

(@AROD) April 4, 2016
Think he went for Indian food after?
Comments of the Day
Me too, packerpride. Me too.
A-Rod hitting 74 home runs in the ALCS would definitely be a sight to see.
Congrats Yung Porzingis! Hopefully we can see the winning picture! #IHaveNeverSatInAPremiumLocation
Can't have the skinnier folk eating with the obese fans.
GIF of the Day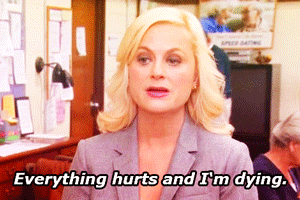 Rain delays/postponements are the worst.
When Dellin wins the AL MVP it'll be because I got to use this gif a whole lot this season!
Honorable Mod Mention
Jake was going to win for quickly getting a post up about the rain delay, but then Jason dropped his article about the new food options at Yankee Stadium so he takes home the prize. Apparently the Yankees are trying to kill us, and Jason's just trying to warn us! Still though, I really want to try that Barnyard Wedding.
Fun Questions
If you were going to a bar for a trivia night, what would your team name be?

Most random fact you know?
Song of the Day
New York, New York by Frank Sinatra
It's Opening Week on Pinstripe Alley. If you know what that means, good for you because I did not. So I asked Greg, and this was the result:
He then went on to say it might just be songs that are inspired by/related to the Yankees. Hence, New York, New York. As always, please link us your song of the day.
Feel free to use this as your open thread for the day. There'll be an official game thread when the game gets going, but we can talk here until then!
Go Yankees!