Things are frustratingly bleak in the merry ol' land of pinstripes. Once again, a decent pitching performance is wasted because the Yankees offense cannot seem to get any hits when runners are on base. Wasted opportunity after wasted opportunity just continues to pile up. It's at the point where the Yankees' pitching staff has absolutely zero margin for error. The pitching was overall great, save for two bad pitches. Meanwhile, the offense almost hit for a double play cycle in the beginning of the game. What makes it sad is that you can clearly see this team is desperate for any kind of spark or luck and they are not getting it. It has been a brutal April. Thankfully, May is almost here. We can hope it yields better results or, at the very least, a shred of offense. Also, stop being bad at your job, Chase Headley. Thanks.
Comments of the Day
Maybe the Yankees need to try Caps Lock instead of shifting.
It'd be nice.
The gnome really adds to this photo.
GIF of the Day
At least Dad is doing stuff.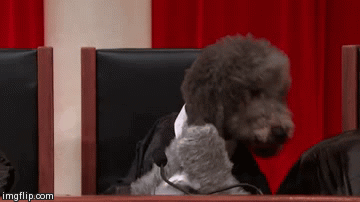 Defeat!
Honorable Mod Mention
Matt P gets the HMM for his great headline and for having to write a recap about that hot mess of a game.
Fun Questions
If you could fly anywhere in the world right now, where would you go?
Click on this Worst Song Bracket. Now, either fill it out or at least give us your pick for worst song on that list.
Song of the Day
While My Guitar Gently Weeps by Prince, Tom Petty, Steve Winwood, Jeff Lynne and others
It's Prince Week on Pinstripe Alley. This isn't an original Prince song, but it needs to be watched anyway. His guitar solo about half way through the song is just a perfect display of how incredible a guitarist he really was. As always, please link us your song of the day.
Feel free to use this as your open thread for the day. We're back in the Revered Hall of Doubles for the second game of this three game series. Michael Pineda will face off against Rick Porcello. Score runs, please? Please?
go yankees go you are #1