I wasn't sure, which is why I had to check with my #sources, but I can now officially confirm one thing: winning is better and more fun than losing. Masahiro Tanaka was great yesterday going 7 innings, he's still the only pitcher in the rotation to do that and now he's done it twice in a week, and the offense was whatever (it still wasn't really good but they won so can't get too mad) but they did enough to win the game. Both Dellin Betances and Andrew Miller were used yesterday so they are both likely unavailable today, which means length is absolutely essential for Michael Pineda today. Let's hope Miguel can pitch a substantial number of innings today. Unfortunately, yesterday wasn't all fun and happiness though as news came out on the Aaron Hicks front.
Girardi: Aaron Hicks has traumatic bursitis of left shoulder. Received cortisone shot, no activity for 4-5 days. DL is possible.

— Bryan Hoch (@BryanHoch) April 23, 2016
After waking up still sore yesterday, Hicks went for an MRI which revealed the bursitis. From what I hear about bursitis is that there's really no good way of getting a timetable for getting better. It could take a few days, it could take a few weeks. Hopefully this only takes a few days, but the Yankees currently have a thin bench without Hicks so they might just opt to go the DL root at some point just to be safe with Hicks and not be down a player. Maybe Swishalicious makes a return to the Bronx sooner than expected.
Comments of the Day
We are not worthy of these two, but hopefully they keep on keepin' on.
Shhh. I feel the same way.
Indeed it was because he has not been able to Conger the "throwing out base runners" portion of the game.
CALLED IT!
Victor makes his return to the blog!
GIF of the Day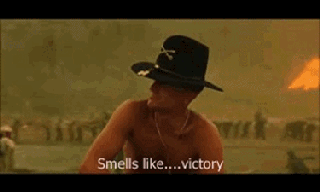 VICTORY!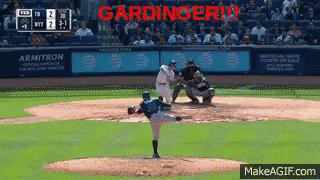 WALK OFF!
VICTOR!
Didi Victory Tweet of the Day
#spreadthenews yankees win awesome game QS start by #tanaka time #walk off homer by #Gardy .... What a game.... !!

— Sir Didi Gregorius (@DidiG18) April 23, 2016
What a game indeed!
Honorable Mod Mention
Caitlin and Andrew will share today's HMM for their efforts in ensuring a Yankee victory yesterday.
Fun Questions
Favorite Prince song?

Mustaches: for or against?
Song of the Day
Erotic City by Prince & The Revolution
It's Prince Week on Pinstripe Alley. On Thursday, news broke that the world lost a beloved artist in Prince, and since then his fans have been paying tribute in their own way. The Twins turned their stadium purple as tribute and stadiums across the league were found to be playing Prince songs throughout their games. The Yankees even paid tribute, and Alex Rodriguez went as far as to make his walk-up songs that day all different Prince songs. Today's song was actually one of them too. So here at PSA, we'll pay tribute our way. As always, please link us your song of the day. Rest in peace, Prince. 2016 is too cruel.
Feel free to use this as your open thread for the day. Michael Pineda/Big Mike/Substantial Miguel will take the mound for the Yankees against Drew Smyly and the Rays at 1:05 pm. Need quality and length from Big Mike, so here's hoping he gives the Rays no reason to Smyl(y).