Well it's all worthless now. The season's over, there are only 152 games left so there's no time to turn things around. The only hope for anything right now is for Masahiro Tanaka to come in at least help the Yankees avoid a sweep at the hands of the Mariners. Hopefully "Masahibro" can do his part, and pitch 8 shutout innings. Of course all of that could be for naught depending on what the offense does. After starting the season strong, the offense has been downright offensive lately, leaving lots of runners in scoring positions without bringing them home. Hopefully today the offense won't be offensive, but it will offend if you catch my Tokyo drift (get it?!).
Comments of the Day
Deep.
The Yankees' offense hasn't been scoring a lot of runs lately, but they've managed to have players on opposing teams score runs for them, so I guess we should all just be happy.
Say it with me "DOOOOOOOOOOOOOOOOOOMED."
GIF of the Day
DEFEAT!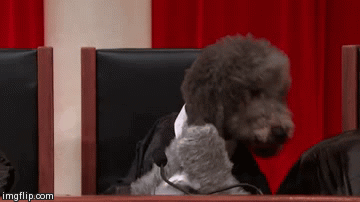 CARLOSS.
Honorable Mod Mention
Andrew MEARNS and I win because we'll be in attendance for today's game and so we'll be directly responsible for stopping the sweep. This is pretty bold me of to say before the game, but ya know I do what I do.
Fun Questions
Would you be upset if ads on uniforms became a standard across all sports?

If you ABSOLUTELY HAD to root for another MLB team, what team would you choose and why?
Song of the Day
Doom and Gloom by The Rolling Stones
It's DOOM Week on Pinstripe Alley. Seeing as the "sky is falling" and we're just doomed, it only makes sense to make the theme for this week DOOM. As always, please link us your song of the day.
Feel free to use this as your open thread for the day. Masahiro Tanaka leads the Yankees in hopes of avoiding the sweep against Hisashi Iwakuma and the Mariners at 1:05.
Really if the Yankees just score more runs they should be able to win the game.