Baseball is a pretty amazing sport. It is also a very frustrating sport, which might be what contributes to it being so amazing. Sometimes a fan just has to sit back and marvel at the fact that the Yankees had so many opportunities to score runs yesterday evening and just didn't. Brilliant pitching by the Mariners or just pure dumb luck? Probably a combination of both. Or maybe the Yankees are just doomed. The second week of the season is a pretty good time to determine the "doomededness" of our beloved Yankees. The writing is on the pinstriped wall.
Having said all that, score some bunting runs today. I will be at the stadium for today's game and I think you owe me a win after that favor I did for you, Yankees. You know the one I'm talking about.
Comments of the Day
After being forced and literally paid to watch Arena League Football, I just want to meet a person that watches it and ask them "Why?"
Road gray uniforms now scientifically proven to be awesome, per Prof. Mahbles.
These answers are as solid as the road gray uniforms themselves.
GIF of the Day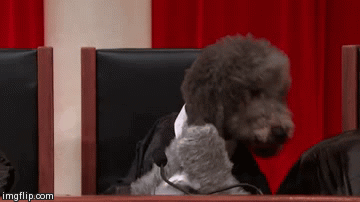 Defeat
Honorable Mod Mention
Jake Devin wins the HMM for his article on Tanaka, while Jason Cohen obviously wins the DHMM for suggesting pinstriped sacrilege. While I'm not against the idea of breaking tradition, he actually suggested it. Clearly, he needs to be thrown into a pond.
Fun Questions
Favorite way to dry your hands in a public bathroom? (Dyson Air Blade, paper towels, stranger's sleeve, etc.)
What "iconic" thing about something you love would you hate if it was changed or altered or messed with in any way? (Examples: Yankee uniforms, the Doctor's Sonic Screwdriver, etc.)
Song of the Day
Come Rain or Come Shine by Ray Charles
It's April Showers Week on Pinstripe Alley. Hopefully the end of this week's theme means the end of rain postponed games in the Yankees' future. As always, please link us your song of the day.
Feel free to use this as your open thread for the afternoon. CC Sabathia will take the mound against Felix Hernandez this afternoon. Didi Gregorius shirseys will be purchased. Alex Rodriguez home run balls will be caught. It's going to be a game alright. Be sure to join us in the game thread.
praise be