Personally, I think it's better when the Yankees win games. Also, I don't like the Blue Jays. These may be unpopular thoughts around these parts, I know, but it had to be said. After starting the series against the Blue Jays with a win, the Yankees dropped the next two to lose the series against their division rivals. At least last night's game went by really quickly so fans could do something else with their night. Pretty unselfish of the Yankees to allow Marcus Stroman to have that five-pitch inning. That's why we root for them. Losses are sad though, so enough about losses. Let's shift to a more fun gear. I made this for the upcoming summer blockbuster:
Relief pitcher by day, Keanu Reeves by night. No wonder they added Johnny Barbato to the roster! Thanks to NoMahbles and Greg for the inspiration here.
Comments of the Day
Maybe he should get the microphone again
Lolllll
Maybe his phantom DL trip was because he got his hand stuck in the honey pot. Thanks to Jason and Andrew for their ideas in putting this together.
GIF of the Day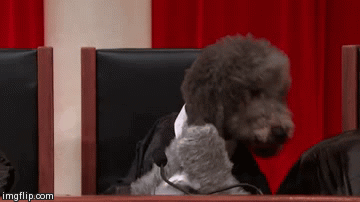 Defeat! Carloss!
Honorable Mod Mention
Caitlin wins for her look into how the Yankees have become fun on and off the field.
Fun Questions
Who pitches deeper into the game, Karns or Severino?

What will A-Rod's final line for the game be?
Song of the Day
November Rain by Guns N' Roses
It's April Showers Week on Pinstripe Alley. Today's song comes as a request from one of our commenters, Siriusrooney. While it's not quite November, I think we can let it slide for one of our own. I'll leave it to him in the comments to say if there was anything more to this song that he'd like to share. As always, please link us your song of the day.
Feel free to use this as your open thread for the day. Luis Severino will lead the Yankees against Nathan Karns and the Mariners. Hopefully the Yankees can Seattle down and find their winning groove again.