It's April Fool's Day so today's thread will be filled with lies. Or truths. Or luths! Already can't tell if I'm fooling you or not, right? I'm so good at this. Getting to actual (or fake) news the Yankees have pretty much set their Opening Day roster and rotation. After the way things have shaped up this past week between injuries and demotions, most of the moves came as "to be expected" or unsurprising.
The Yankees officially set four of the spots in their rotation.
Set your clocks, it's official. #TanakaTime begins April 4. #OpeningDay pic.twitter.com/uwPYPu8CUA

— New York Yankees (@Yankees) March 31, 2016
Tanaka will be followed, in order, by Michael Pineda, Nathan Eovaldi, and Luis Severino. Technically the team is still going to have meetings about the fifth starter, but be very surprised if it's anyone besides CC Sabathia. But sure, as long as they keep pretending to have made a decision, I'll pretend that I don't know either. (My over-confidence in this matter can only mean that I'm wrong and Ivan Nova will be the fifth starter, right?)
While most of the roster is set, now that Bryan Mitchell will unfortunately officially miss time due to a broken toe, the Yankees have an unexpected decision to make.
Barbato and Cessa won the final two bullpen spots before the Mitchell injury. Now deciding who replaces Mitchell. Yates a strong candidate.

— Lohud Yankees Blog (@LoHudYankees) March 31, 2016
Kirby Yates makes sense as he's stuck around with the team late into spring, but Branden Pinder could also be in contention given how well he pitched this spring and his past experience with the team. Either way, bank on being able to make Kirby or Tinder puns to start the season.
Fortunately-ish, it seems the Yankees will not be without temporary closer Andrew Miller to start the season, as the relief ace is insisting on pitching through his injury.
If the doctor says he can't play, Miller says "I'll probably find another doctor"

— wallace matthews (@ESPNNYYankees) March 31, 2016
Granted it's not his pitching elbow, but not listening to a doctor seems unwise. Pretty sure they know more about the human body than he or I do, but hey what do I know?
In other news, the Yankees are likely to get a familiar face back on their roster as the Reds placed outfielder Jake Cave on waivers yesterday. While another team could claim him and carry him on their roster, that seems unlikely so the Yankees would probably be able to get him back for the $25,000 fee. There is always the chance that the Reds like him enough that they work something out with the Yankees (Votto for Cave seems fair) and Cave stays in Cincy.
Comments Video of the Day
There were no COTDs anyway, and I had a GOTD so today this section got re-purposed. Once you watch this video, you'll see why.
See? Also, if someone can gif Didi's faces after "velociraptor", after "My Heart Will Go On", his "WHAT?!" and his "YEP!", that would be appreciated by the entire planet!
GIF of the Day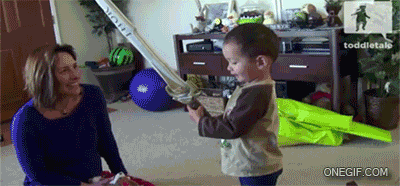 I'd seen this gif before yesterday, but that doesn't change how much it makes me laugh.
Honorable Mod Player Mention
Didi Gregorius and Starlin Castro win PSA's first HPM for the video above! Congrats to the new best friends!
Fun Questions
Come up with a name akin to Ellsgard/Gardsbury for Didi and Starlin.

Who would win in a battle of best friends, Ellsgard/Gardsbury or [ insert answer from first question ]?
Song of the Day
1nce Again by A Tribe Called Quest ft. Tammy Lucas
It's A Tribe Called Quest week on Pinstripe Alley. This song does it to me 1nce again, my friends. This song does it to me every time. As always, please link us your song of the day.
Feel free to use this as your open thread for tonight's game against the Marlins. While the regular season hasn't started yet, the Yankees have packed up and left Tampa for the spring. This means that Nathan Eovaldi will face his former team and teammates in his former ballpark as this game will be played at Marlins Park in Miami. The Marlins will send Jose Fernandez to the mound (if you're wondering why he's starting if he's going to be pitching on Opening Day, it's because he's not and Wei-Yin Chen will start for the Marlins that day).
We'll have the ready for you, see you in 4 days #OpeningDayhttps://t.co/LEocUdnT41

— New York Yankees (@Yankees) March 31, 2016
We're almost there, folks.
(I guess there weren't many lies or even luths in this thread, eh?)