The die was cast. The gauntlet was thrown down. The prize? To be the fifth starter in the rotation of the prestigious pinstriped pantheon known as the New York Yankees. The contenders for this coveted spot are CC Sabathia and Ivan Nova. It has been a long and arduous battle between these two fierce competitors this past month. Spring training had become spring dueling. It has been said that the fifth starter is the supreme being and would save us all from the oncoming storm of pure evil. Although now that I think about it, that could have been the Fifth Element.
Sabathia, looking to rebound after his last rough outing, took the mound last night and did just that. CC pitched five innings, gave up six hits and two runs while striking out four and walking two. CC has money, years, and veteran presents on his side. Ivan Nova could still surprise us all though. The battle for fifth, which I will be calling the "Fifth Tiff" for the foreseeable future, continues this afternoon.
Comments of the Day
This section is now sad. You make it sad.
GIF of the Day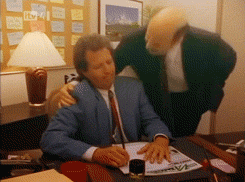 In honor of Garry Shandling, who passed away yesterday.
Honorable Mod Mention
Shah wins the HMM for his piece on Joe Garagiola. You should give it a read if you haven't already.
Fun Questions
Do you do anything special for the first game of the season? (Go out, eat hot dogs, go to the game, etc?)
What beer or other alcohol beverage have you been more into lately?
Song of the Day
Down to Earth by Peter Gabriel
It's Nature Week on Pinstripe Alley. I've decided to break away from the SNES for my last entry for this week. This song plays at the end of WALL-E, and it's song I've loved from the moment I heard it. This song is all about nature and Peter Gabriel just brings it home! As always, please link us your song of the day.
Feel free to use this as your open thread for today. The Yankees will face the Orioles and Ivan Nova will continue the Fifth Tiff. The game will be broadcast on MLB.TV.
go yankees go baseball