Breaking news! Luis Severino is good at baseball, Starlin Castro is not Stephen Drew, and Rob Refsnyder can hit! See? I said there would be much more hard-hitting analysis. And you probably didn't believe me. Hmph. Shame on you. You know what, I'll just let everyone else do the talking for me now. See how you feel about that.
#Sevy tossed four scoreless frames of in today's #NYYSpring win!https://t.co/xbiI6PBuVj

— New York Yankees (@Yankees) March 17, 2016
If only someone said he's good at baseball...
With one massive swing, a Star is born: https://t.co/O90vh0zAVV #NYYSpring pic.twitter.com/XhBnoyyNs8

— New York Yankees (@Yankees) March 17, 2016
Someone also said he's not Drew...
.@Rob_Refsnyder shows off that #NYYSpring !https://t.co/qrqkTCbcXv

— New York Yankees (@Yankees) March 17, 2016
..Now will you listen to my ground breaking analysis?!
So the Yankees beat the Pirates 7-2 yesterday, but unfortunately Slade Heathcott did not get in on the action.
Why was Slade Heathcott scratched from today's lineup? "He missed the bus," Joe Girardi said.

— Bryan Hoch (@BryanHoch) March 17, 2016
Anyone else I might have just brushed it off, but for some reason this made me laugh and I kind of find it adorable.
Comments of the Day
Exactly!
I mean Buster sliding into himself could be a fun version of the game
yeah..ummm..
I....don't understand
#BanBernie?
DISCOUNT DOUBLE CHECK YOUR FACTS!
¯\_(ツ)_/¯
GIF of the Day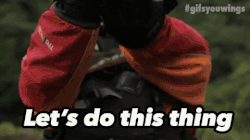 I said BRRR, it's cold in here. THERE MUST BE SOME EXCITEMENT IN THE ATMOSPHERE!
Honorable Mod Mention
Tanya wins for her post detailing the problems with Goose's statements and the state of baseball. If you haven't already, go read it!
Fun Questions
Are you usually early, on time, or late?

Three favorite things about nature.
Song of the Day
Saints Go Marching In by Louis Armstrong
It's March Madness Week on Pinstripe Alley. Up until now I had been focusing on the "Madness" aspect of things, so like I said I would, today I wanted to address the "March" of it all. If you don't see the connection, then I've got nothing for you. As always please link us your song of the day.
Feel free to use this as your open thread for tonight's game. The Yankees will host the Orioles tonight at 6:35pm. The Yankees will send veteran CC Sabathia to the mound against Miguel Gonzalez. Tonight's game will be available on YES, MLB.tv, and WFAN.
yay-seball!