Yesterday, in another pivotal game, the Yankees proved victorious against the Red Sox once again. I said it after the last victory against the Red Sox, but now you can definitely end the season. The Yankees are champs! Take that, every other team! Newly acquired outfielder Aaron Hicks even hit a home run off David Price, which is precisely what he was brought in to do. Well not specifically hit home runs off Price, but hit well against lefties.
.@AaronHicks31 sends one to the bullpen: https://t.co/NWRQtz8OYk #NYYSpringhttps://t.co/ZO8nEi8EM7

— New York Yankees (@Yankees) March 15, 2016
"He gave that ball a Hicksey" - Andrew doing his best John Sterling impression. Aaron't you glad Sterling didn't actually say that? Or maybe Andrew is Sterling. The plot tHicksens. Anyway in more important news, this picture happened:
Let's work. #NYYSpring pic.twitter.com/KKqG43IlIQ

— New York Yankees (@Yankees) March 15, 2016
#BAEROD is fabulous.
Comments of the Day
GIF of the Day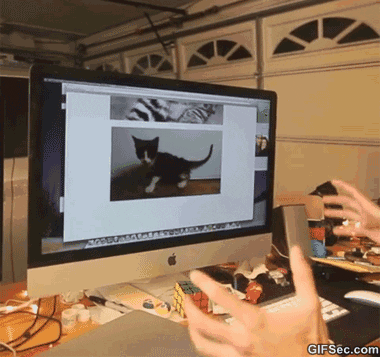 MAGIC!
Honorable Mod Mention
Tanya wins for her accurate description of Nick Whiskeyabove. No wait, Nick Ginonfloor. Nope, I got it, Nick Rumbelow.
"Rumbelow is sweating an actual bucket out there. Actually swimming in it." - @TanyaBondurant pic.twitter.com/LbpHA7ghuX

— Pinstripe Alley (@pinstripealley) March 16, 2016
Fun Questions
Come up with the best scenario for what happened to Romine's hair
omg Romine what is your hair pic.twitter.com/Qqka763TX2

— Pinstripe Alley (@pinstripealley) March 15, 2016
Song of the Day
3 a.m. by Eminem
It's March Madness Week on Pinstripe Alley. Once again, I'm sticking to the "madness" aspect of the week, maybe next time I'll try and explore the "March." As always, please link us your song of the day.
Feel free to use this as your open thread for tonight's game. The Yankees take on the Blue Jays today as they send Nathan Eovaldi to take the mound against Drew Hutchison. Brett Gardner will make his long awaited spring training debut and he says that two weeks will be enough time to get ready for Opening Day. Let's hope that's the case. Tonight's game starts at 6:35pm and will be available on YES, MLB.tv, and on WFAN.