After spending way too long in a Yankees uniform, Brendan Ryan has signed a minor league deal with the Washington Nationals. He will be joining Stephen Drew down in the Nation's capital. Drew, who also spent too long in a Yankee uniform, will be the primary back-up to Daniel Murphy but in case of injury Ryan will be there waiting in the wings. Although I'd be Ryan if I didn't say that Brendan will probably get injured first. It looks like the whole gang's getting back together in D.C. though, so if the Nationals also want Rob Refsnyder, I'm sure a Harper-for-Refsnyder trade would be easy to figure out. This way they can start Drew and keep Ref down in the minors and it'll truly be like old times! Obviously Murphy would play right field in this situation.
Comments of the Day
:'(
Maybe this year he'll get his Headley out of his you-know-whatley
GIF of the Day
Sure.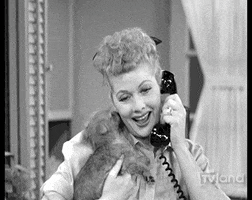 Aww
Honorable Mod Mention
I win because I'm hilarious:
Fun Questions
Most hated fictional character?

Favorite pizza topping?
Song of the Day
I Honestly Love You by Olivia Newton-John
It's 70's Love week on Pinstripe Alley. The line about hanging around too long really felt appropriate on the day Brendan Ryan signed with another team. Some of you Will & Grace fans might recognize the song from that episode when Will needs to land a high-profile client so Karen has him sing this song at a piano bar. As always, please link us your song of the day.
Feel free to use this as your open thread for the day. Wubalubadubdub. That's for you, Bird Person. Get better fast.