Major League Baseball issued its first ever permanent ban for PEDs yesterday. Already serving a 162 game ban for failing a drug test a second time, Jenrry Mejía of the Mets tested positive for Boldenone and received a permanent ban from MLB. He's allowed to apply for reinstatement after one year, however he can't be reinstated until he sits out at least two years.
Besides the fact that this was his THIRD failed test in less than a year, the worst part is that Boldenone is apparently one of the more easily detectable steroids.
Mejia tested positive for boldenone, the 2nd time he was nailed for it. It's old school, unsophisticated, easily detectable. Career suicide.

— T.J. Quinn (@TJQuinnESPN) February 12, 2016
He also tested positive previously for stanozolol, same level of sophistication. He wasn't even trying to avoid detection.

— T.J. Quinn (@TJQuinnESPN) February 12, 2016
Old joke is it's an IQ test, not a drug test. But taking boldenone/stanozolol is like trying to shoplift an elephant. Someone's gonna notice

— T.J. Quinn (@TJQuinnESPN) February 12, 2016
Well there you have it. I'll turn to PSA's own Greg Kirkland to sum this matter up:
That's a Boldenone strategy, Cotton! https://t.co/UtFTCT5o3V

— I'mNotReallyGregKirk (@ImNotAHRHitter) February 12, 2016
Yup. Well at least pitchers and catchers report soon. In news related to the Yankees, the team avoided arbitration with closer Aroldis Chapman for the 2016 season. The team will pay him $11.325 million, which is closer to what he should be paid than the $9 million low-ball offer they were going into arbitration with. Either way at least they came to an agreement. Go baseball!
Comments of the Day
Well done, indeed. Although calling him old seemed unnecessary.
GIF of the Day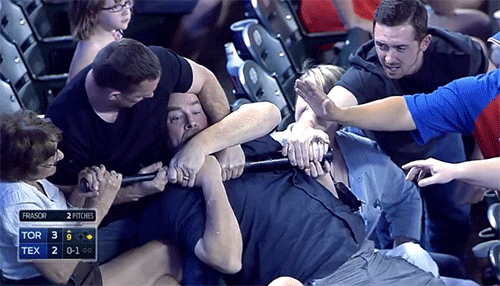 Riiiiight. That's why bat day is just for kids. Thanks for the reminder, Harlan.
Honorable Mod Mention
Andrew, Tanya, and Jason win for sharing with all of us Pinstripe Alley's Top 20 prospects. Check it out!
Fun Questions
Do you agree with

Aaron Judge

being the top overall prospect in the Yankees system?
Take this quiz. What new song should be your jam this weekend?!
Song of the Day
Saturday Nite by Earth, Wind, & Fire
It's the end of Earth, Wind, & Fire week on Pinstripe Alley. This week we looked back on some great Earth, Wind, & Fire songs as we paid tribute to the loss of band founder, Maurice White. And seeing as how today is Saturday, this seems like the most apropos way to close this week out. The moon will be shining bright! As always, please link us your song of the day.
Feel free to use this as your open thread for the day. Any big Saturday nite plans?