The American League East is slowly but surely beginning to take shape. While fans of the Yankees await Brian Cashman to finish up whatever plans he has for the offseason, they can also see what their division rivals will be like when Opening Day comes about. The Miami Marlins signed now former Orioles pitcher Wei-Yin Chen to a five year deal. It's far to say that Birdland's starting pitching is in question, to say the least. It's also unclear what's to become of their offense as well. Rumors are starting to circulate that they are fed up with their negotiations with Chris Davis, and are now pursuing free agent Yoenis Cespedes. At the time this article is being written, they are supposedly willing to give Cespedes a deal worth five years, somewhere in the $75-$90 million dollar range.
Meanwhile, the Tampa Bay Rays are close to a two year deal for second baseman Logan Forsythe. Honestly though, that is not the most important news about the Rays. Not even close. The Rays have finally been granted the right to find a new home to call their own. It will still take some time, but the important thing is that they will no longer be confined to Tropicana Field for the long haul. I think I speak for Yankee fans, all AL East fans, and just fans of baseball in general when I say "FINA-BUNTING-LLY!"
Comments of the Day
Sorry, but there were no COTDs yesterday.
GIF of the Day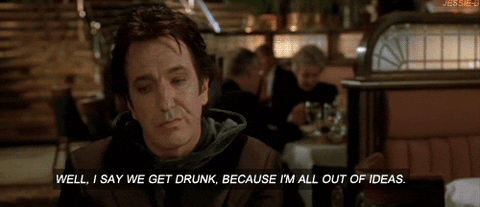 PSAers have longed used this GIF during games that just aren't going the Yankees way. I felt this would be the most appropriate GOTD today.
Honorable Mod Mention
Andrew, for posting that GIF.
Fun Questions
What is your favorite role or character that Alan Rickman played?
If you were the Yankees, would you match the rumored offer for Cespedes?
Song of the Day
Sound and Vision by David Bowie
It is David Bowie week on Pinstripe Alley. This very well might be my favorite David Bowie song. I say that now though. Tomorrow, I could say it's something else. That's how talented he was to me. As always, please link us your song of the day.
Feel free to use this as your open thread for the day. Yesterday, we lost actor Alan Rickman in almost the very same way as we lost David Bowie. Alan Rickman was an incredible actor and he shall be missed by those he touched with his performances. By Grabthar's hammer, R.I.P. Mr. Rickman.