Happy New Year, Pinstripe Alley. It is now officially 2016. A new year to celebrate and a new Yankees team to root root root for. If you believe in "even year magic" then it doesn't really matter what the Yankees do, as the San Francisco Giants are already the 2016 World Series Champions. In order to stop that, the Dodgers Maeda move yesterday when they signed Kenta Maeda. Maeda, or "Maeken" as he is also known by, will be signed for someone between five to eight years. More details will be Maed available later on.
@dcone36 back at ya brother

— david wells (@BoomerWells33) January 1, 2016
We're still waiting for the Yankees to finally give David Cone and
David Wells
a sitcom. Get it done, YES Network.
Comments of the Day
Looks like most PSAers were out partying last night. If so, we hope you had a fun night.
GIF of the Day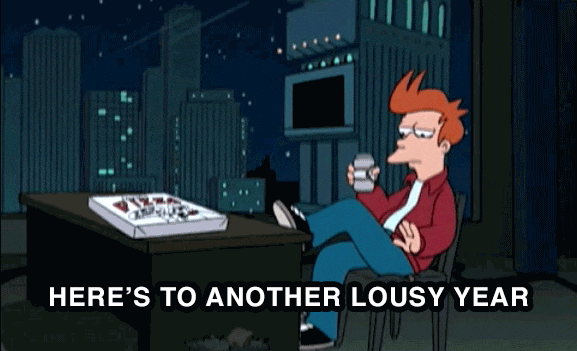 I'm sure some Yankee fans are thinking this right now.
Honorable Mod Mention
It's the New Year. Every mod is a winner.
Fun Questions
Any resolutions for the New Year?
Which Yankee are you most looking forward to see play this year?
Song of the Day
New Year's Day by U2
It's New Year/Beginnings week on Pinstripe Alley. Sometimes the easiest choice is also the best choice, and what better choice for a SOTD than this one. It also happens to be my favorite U2 song, so that works as well. As always, please link us your song of the day.
Feel free to use this as your open thread for the day. Happy New Year everybody.