We can still hope for good CC though.
Our hope was definitely rewarded last night as CC Sabathia pitched one of his absolute best games of the year against the Rays. After the previous week of annoyance, heartbreak, and general sadness, the Yankees needed something positive to start this week off with. Boy did they get that yesterday. I'm not even talking about the 9th inning heroics, which were amazing. You can never go wrong with a two out, four run rally. Still though, the most important thing to come out of yesterday's game was seeing good CC again. With the loss of Nathan Eovaldi, the Yankees really need CC to be good again. It was refreshing to see. What a game.
Comments of the Day
Also known as the Pinstripe Alley motto.
Yep
Seriously. You could score for CC once in a while, you know.
It was a long night for long time listener.
This will always be awesome. What a clutch hit for Alex Rodriguez.
Slade Heathcott followed up with the clutch! Welcome back to the majors.
The Heathcliff theme song is one of life's great treasures.
Emotions running wild with that win!
Slade! Deathstroke! Whatever you want to call him.
Is there even another Slade in baseball right now?
GIF of the Day
Thank you, Carlos Beltran, for breaking up that no hitter.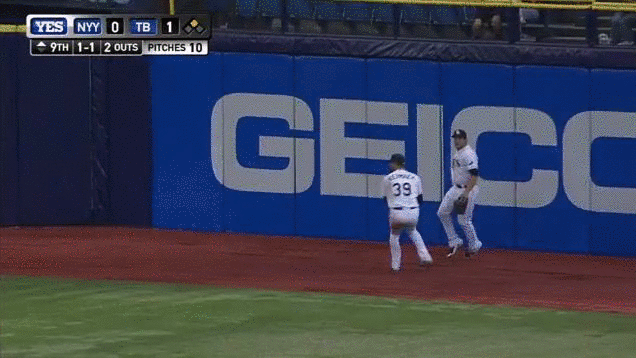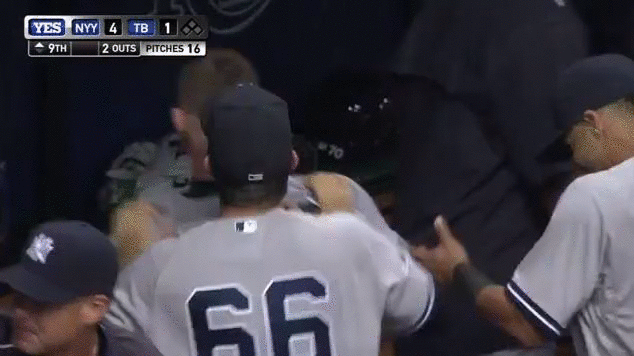 A-Rod was pumped and Slade got the biggest of bear hugs.
Victory!
Honorable Mod Mention
Last night, all the mods won for that game. You all won as well, just not as much as we did!
Fun Questions
PSA Classic: Favorite, funniest, or just downright silliest way you can imagine destroying or just getting rid of Tropicana Field?
What is your preferred font when it comes to typing out something important?
Song of the Day
Mama Said Knock You Out by LL Cool J
It's Comeback Week on Pinstripe Alley, or should I say "Don't Call It A Comeback" Week. They've been here for years. As always, please link us your song of the day.
Feel free to use this as your open thread for the day. Adam Warren will make his return to the starter's role tonight in game two against the Rays. Cry Havoc.
go yankees go baseball bla-ow how ya like me now