Well then. This series has gone just about as badly as anyone could have imagined. There's still one more game to be played today in order for the Yankees to avoid a four game sweep by the Blue Jays, the team they really really did not want to get swept by. If there is one positive out of all of this, and trust me there are not many, it's that the offense hasn't been all that terrible. In the past three games they have scored 17 runs. That's not bad at all. Of course, when your pitching has given up 30 runs over that same span, it's really hard to win. Once again, due to bitterness and overall annoyance, I'd love to give a shout out to Athletics GM Billy Beane for trading away a young, cost controlled MVP third baseman named Josh Donaldson for Brett Lawrie and prospects that won't be in the majors for a while. Well bunting done.
Comments of the Day
At least my callin' it of Alex Rodriguez hitting 31 dingers was on point.
I'm not upset that I missed these two games.
I'm also not upset I missed these two game threads.
Nope. Not at all upset.
I don't know about other Yankee fans, but I've still very much enjoyed this season.
Never change, Yankees' fanbase. I mean, unless you really want to.
It would be nice if Brett Gardner could stay this hot for the remainder of the season.
GIF of the Day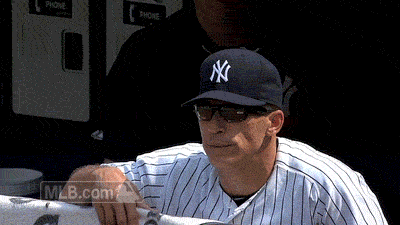 Yeeeeesh.
Honorable Mod Mention
Nothing more honorable than what Waffles had to go through yesterday. She definitely wins.
Fun Questions
Be honest, are you watching baseball or football today?
Most underrated alcoholic beverage?
Song of the Day
Return Of The Mack by Mark Morrison
It's Comeback Week on Pinstripe Alley. I figured we could all use a week like this. As always, please link us your song of the day.
Feel free to use this as your open thread for the day. Masahiro Tanaka will take the mound today against the Blue Jays. Meanwhile, the Yankees will be going against knuckleballer R.A. Dickey, which is never fun.
go yankees go baseball but i do but i do do do