The Yankees have not played their best baseball on the road this year. It's understandable. Who wouldn't prefer the friendly confines of one's own home? This road trip, the last one they will take outside of the Eastern Time Zone this year, was a good chance for the Yankees to make a statement that they are able to win while travelling. Well win they did, as they head back to the Bronx after going 6-4 on this trip. There were some frustrating losses in the mix, but also some incredible wins highlighted by a seemingly more dangerous offense. In addition to the vast gluten free powers of Mark Teixeira, the bottom of the order has been hitting a lot better lately. Plus, they still have their six game lead over the Blue Jays and Orioles. Not bad at all.
Comments of the Day
Pretty much this.
A very accurate spelling of his name yesterday!
Pungineering.
Drew-urns?
What a great outing by Ivan Nova yesterday.
Zing. Also, that title was gold!
Loria is terrible, yes.
GIF of the Day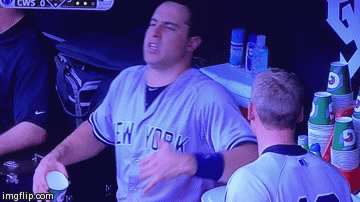 What are you even, Tex? Victory!
Honorable Mod Mention
Arun gets the HMM award, since the Yankees scored a lot of Aruns yesterday. (I'm not apologizing for this)
Fun Questions
Have you ever had a cheesesteak in Philly? If so, what's the best place?
What are you going to watch tonight since there's no Yankee game on?
Song of the Day
Summertime or
The Fresh Prince of Bel Air by Will Smith
It's PA Songs Week on Pinstripe Alley. Philadelphia born Will Smith gets the nod here with two songs. Take your pick! As always, please link us your song of the day.
Feel free to use this as your open thread for the day. The Yankees have the day off. The Blue Jays, the Orioles, and the Rays all play today, if you're interested in the changing AL East landscape.
i put my walkman on and said "i might as well kick it"