Whether you want to call last night's game a clusterbunt, a balkerdoodle, a Bud Light Lime, or an Iggy Azalea concert, last night's game against the Astros was just plain awful. Ivan Nova and every pitcher not named Brendan Ryan pretty much decided to go full Mitre on us. Yeah, you read that right. Brendan Ryan pitched. In fact, him pitching the 8th and 9th inning for the Yankees was pretty much the only legit highlight of that game. The Bronx Bombers will hopefully just brush that game off and come back strong this afternoon in the rubber game. Michael Pineda is happily back from injury and he will take the mound. We could really use a substantial performance from him today. More importantly, the offense needs to wake up a bit, which will not be an easy task against Collin McHugh.
Comments of the Day
Clusterbunt Jewelers: Just giving you an "out!"
Sometimes kshah is a devil!
Bravo, Yankees twitter. This made me laugh after all of that terribleness.
GIF of the Day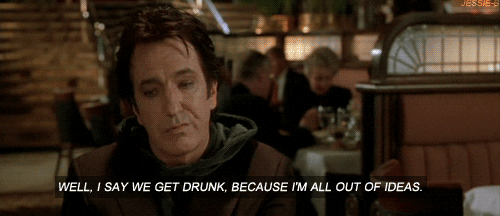 Defeat!
Honorable Mod Mention PSA PSA
I'm going to use this moment to address something that's been a bit of a thing lately. Listen, we understand that many baseball fans are fantasy baseball participants, and many of you are passionate and proud about your fantasy team and the players on it. That's all well and good and hey, congrats if you're doing well this year. However, and I cannot stress this enough, we really do not care about it or want to hear about it during the game.
It's bad enough watching the players on our reality baseball team struggle, like they did last night. Hearing that our reality players doing badly is making your fantasy team better? Yeah, we give absolutely no bunts about that. It is adding an extra annoyance onto an already annoying and frustrating situation. In closing, we would really appreciate it if you could celebrate or seethe in silence regarding your fantasy team during the game thread. Thank you very much.
Fun Questions
Smart Watches. Awesome tech or clusterbunt jewelry?
Do you even wear a regular watch anymore now that you most likely own a cellphone?
Song of the Day
Blitzkrieg Bop by The Ramones
It's 70's Rock Week on Pinstripe Alley. Time to honor the punk rock group from my home borough of Queens. Also, the phrase "Hey ho, let's go" is also appropriate, since you probably have heard it at baseball games. As always, please link us your song of the day.
Feel free to use this as your open thread for the day. Substantial Miguel is back in the Bronx. Yay!
go yankees go baseball what they want i don't know