Jorge Posada day went a lot better than Andy Pettitte day, in terms of the baseball games that were played after the ceremonies. Yesterday's game was long and painful and resulted in the Yankees losing the game and the series to the Indians. It's actually kind of amazing when you think about it. The Yankees faced the Indians seven times this year. They only beat them twice. In all seven games against them, they did not even have to face last year's Cy Young winning Corey Kluber once. That's baseball for you, I guess. Our inability to show up against the Indians, coupled with the Angels inability to show up against the Blue Jays, have landed the Bronx Bombers. Toronto has a day off while the Yankees welcome the first place Houston Astros into the Bronx for a three game series. Nathan Eovaldi takes the hill tonight.
Comments of the Day
Good luck. The man does love to talk!
The poop emoji would have made a great recap for that game and that series.
D'awwwwwwwwwww
Carlos Beltran is still coming through.
GIF of the Day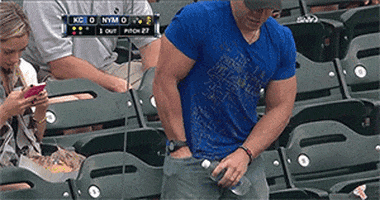 Defeat!
Honorable Mod Mention
It's a tie between Matt P and Arun. Matt P had to recap that clusterbunt of a game, and Arun worked hard on writing an article that was kinda rendered null due to CC Sabathia's injury. Tough but honorable breaks.
Fun Questions
What baseball team has surprised you the most this year, in terms of how their season is going?
Favorite bottled water?
Song of the Day
Message In A Bottle by The Police
It's 70's Rock Week on Pinstripe Alley. My love of The Police knows no bounds, and this song is one of the reasons why. As always, please link us your song of the day.
Feel free to use this as your open thread for the day. Nathan Eovaldi hopes to help the Yankees rebound against the Astros tonight. Perhaps the Yankees offense can score a lot of runs for him, like they normally do.
go yankees go baseball only hope can keep me together