I have always hated the term "free baseball" to describe extra innings. It's not free. Someone always pays for it and lately, that someone has been the Yankees and their fans. They have the worst luck in extra innings. Even when the Yankees' offense was scoring a lot of runs, the game of baseball was really never kind to them after the 9th inning. So perhaps they should stop going into extras. Just a thought.
There's no real need to get into all the reasons why yesterday's loss to the
Indians
was brutal.
Luis Severino
once again pitched a pretty great game though. The bullpen, despite Andrew Miller's first blown save of the year, did pretty well. The offense just really really really really needs to wake up.
Comments of the Day
Perhaps the Jets just wanted to top the Giants in terms of foolish offseason injuries?
What a terrible movie.
Sir Didi Gregorius has been great.
That he is.
Go positive thinking!
Stephen Drew defies your beliefs.
Matt F with my favorite comment of the night. Also, Chasen Shreve is still good.
Yay!
Stephen Derp?
Extra innings are the worst.
I could go for some cookies.
It's been brutal, yes.
GIF of the Day
Rob Schneider was wrong. He usually is.
Love this GIF so much.
Yep.
Yeeeeeeep.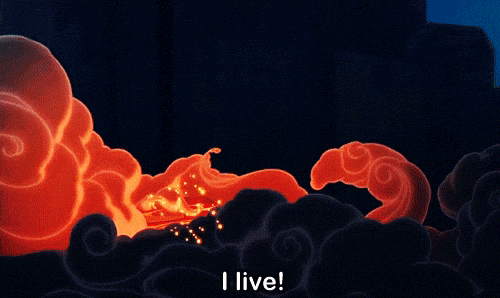 At least Carlos Beltran is alive. Or a rage zombie. Either works.
Defeat!
Honorable Mod Mention
It definitely goes to Caitlin. If anyone has any reason to hate extra innings this year, it is her.
Fun Questions
A PSA Classic! What position did/would you play in the field?
What is your favorite cookie?
Song of the Day
Giorgio's Theme by Giorgio Moroder
It's Electronica Week on Pinstripe Alley. I mean, if I were Giorgio Moroder, I'd totally make my own theme song as well. As always, please link us your song of the day.
Feel free to use this as your open thread for the day. CC Sabathia will take the mound for the Yankees tonight. He is coming off one of his best starts of the year against the gutter-dwelling Red Sox. Here's hoping he can repeat that performance against the Indians.
go yankees go baseball please score runs again