Yesterday did not go as planned. The goal was for the Yankees to beat the Mariners and thus secure our series victory against the Mariners. Unfortunately, no one sent Robinson Cano the memo, as he pretty much beat the Yankees by himself. Now, in order for the Yankees to win this series, CC Sabathia must go toe to toe with Felix Hernandez. Before you immediately write this game off, remember that the last time the Bronx Bombers faces King Felix, they scored seven runs off of him. So he is not invincible. Also remember that the Mariners offense is still not really all that good. It is still very possible for Sabathia and the Yankees to come out on top this afternoon. We still recommend booze though.
Comments of the Day
There's no telling what kind of experience this fan had.
Just plain rude, Robbie.
It was correctly called.
I'm surprised no one told me to put a cork in it.
GIF of the Day
Kshah GIF patting himself on the back for calling Brian McCann's home run.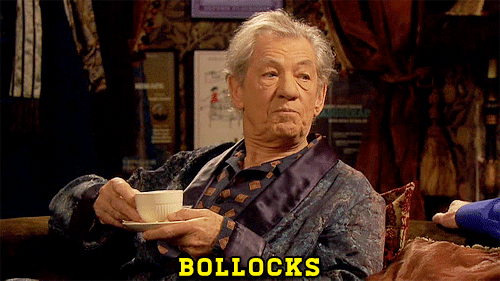 Defeat!
Honorable Mod Mention
It was a light day yesterday. Nothing really honorable happened.
Fun Questions
What is your current favorite commercial on TV?
What color do you tend to wear the most, clothing wise?
Song of the Day
Come Together by The Beatles
It's Beatles Week on Pinstripe Alley. No real reason other than wanting to listen to some music from the Fab Four. As always, please link us your song of the day.
Feel free to use this as your open thread for the day. CC vs. King Felix. The results may surprise you!
go yankees go baseball he one mojo filter