Beating the Red Sox never gets old. Beating the gutter dwelling, last place Red Sox just helps make it that much more fun. That is precisely what the Yankees did last night behind the substantial pitching of Michael Pineda and the bullpen. The offense did work as well, with a little help from the Boston defense. Alex Rodriguez crushed a dinger, which is always a pleasure to see him do in the revered hall of double. It's very nice to have Jacoby Ellsbury at the top of the lineup and Andrew Miller at the end of the bullpen again. Overall, just a great night and a great win for the Bronx Bombers.
The other great news from last night is that Yankees' second base prospect Rob Refsnyder has been called up to the majors. As you know, the only thing keeping Refsnyder down was his somewhat lack of defensive skills. Considering the defensive issues the Yankees have had with every infielder not named Mark Teixeira, it is understandable why the Yankees have hesitated so long. While his defense is still in question, word from the minor league beat says that his glove has definitely improved over the past couple of months. This is the ideal time to bring him up. Stephen Drew, despite his uncanny dinger prowess, is still not hitting well at all. The Yankees cannot go into August with him as their primary second baseman, so now is the time to see what Refsnyder can do. If Refsnyder cannot perform well at the major league level, then the Yankees need to trade for a second baseman before the deadline. If Refsnyder can perform at the major league level, I think everyone involved will be more than happy. We're all rooting for you, Ref. Show it!
Comments of the Day
To quote Guns N' Roses, all we need is just a little patience.
It's amazing that they just didn't cancel the season due to their overwhelming strength.
Arun was really close to earning a DHMM award.
And there was much rejoicing.
Drew is very booable.
Can you tell me how to get, how to get to Refsnyder Street?
Future Yankee [insert player here]
I guess that's why he got booed.
This man is going over Brian Dozier. Think about that.
Well done, Miranda.
We're not that fond of Boston.
I get it!
Oof
Hooray for Rob Whistlenibbler
Get hyped.
Could use some more offense, yes.
Well said, LTL.
GIF of the Day
Victor was used to stop a long Batman pun session going on. It worked. All hail Victor!
News of Refsnyder was well received.
Rod!
Again, news of Refsnyder was well received.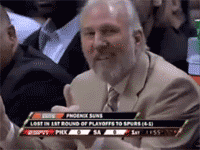 Victory!
Honorable Mod Mention
I'm gonna have to give it to myself again for this I'll Be There For You parody about Stephen Drew, which was probably the reason Refsnyder was called up.
Fun Questions
What were the best seats you ever had at a baseball stadium?
Predict Rob Refsnyder's night.
Bonus question: What is you John Sterling-ish home run call for Refsnyder?
Song of the Day
Pump Up The Jam by Technotronic
It's the end Jock Jams week on Pinstripe Alley. What song gets you pumped up more than this? Nothing, that's what! As always, please link us your song of the day.
Feel free to use this as your open thread for the day. Ivan Nova is looking for a bounce back start after his last outing. Nothing could be better than bouncing back against the Red Sox.
go yankees go baseball go refsnyder