After splitting a four game series with the impressive, AL West leading Houston Astros, the Yankees head further west to mine for gold. If they decide to play baseball instead, the Bronx Bombers will face the Los Angeles Angels of Anaheim in the Pacific Time Zone for a three game series. For those of you on the east coast who think 10PM start times are "the bomb diggity" then congratulations. This series is for you. For those of you on the east coast who hate 10PM start times and think that the west coast is the worst coast, then take solace in the fact that this is the last time the Yankees will be in the pacific time zone for the rest of the year. It would be nice to end the month of June on a high note, so taking this series from the Angels would most certainly help with that. CC Sabathia will take the mound tonight.
Comments of the Day
Some Go Notes to open up with.
Pungineering
Kshah90 falls into the "west coast is the worst coast" category.
GIF of the Day
Defeat!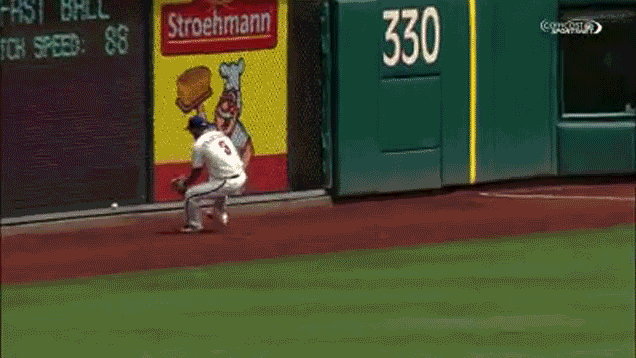 Oh Frenchy...
Meanwhile, our baseball cousins from Queens saw the debut of young Steven Matz. It was an impressive debut, to say the very least. While I'm sure the Mets were impressed, his grandfather had the best reaction to it all.
Honorable Mod Mention
Andrew wins. Flawless victory.
Fun Questions
Due to interleague and division rivals, the Yankees don't play AL Central or AL West teams as much as they use to. Which team from the AL Central or AL West would you like the Yankees to play more?
Which team from the AL East would you like the Yankees to play less?
Song of the Day
The Flying Circus from The Rocketeer by James Horner
It is James Horner week on Pinstripe Alley. I've had quite a few people ask me what my favorite superhero movies are, and I'll usually give them a Top 10 list of sorts. The Rocketeer is always on that list, despite all the newer ones coming out lately. I just love this movie as a period piece, and James Horner's score just makes the movie whole. As always, please link us your song of the day.
Feel free to use this as your open thread for the day. Let us hope for good CC against the Angels tonight. Also, if the offense and defense could also show up, that would be swell.
go yankees go baseball it's all part of the show