After an off day yesterday, the Yankees are ready to get back to that whole baseball thing they do. Our Bronx Bombers are back in Baltimore to do battle against the Orioles for three games. Perhaps they will stop and get some Waffle Fries with Crab Dip before the game. I know I would if I was at Oriole Park at Camden Yards. Besides the excitement of seeing Michael Pineda pitch again, Yankee rookie Mason Williams will hopefully be making his first start on the major league roster. He has certainly earned the opportunity this year. Here's hoping he makes the most of it.
Comments of the Day
It was a bright, punny day!
Fusion-HA!
Good work, Cashman.
Rumor has it they acquired Arnold Blacksmith last night as well.
And either Mason Williams or Ramon Flores can be yours IF the Price is Right!
Tanya is probably correct.
The shark still looks fake.
Agreed!
Hahaha, it's funny because the Red Sox are terrible.
A sick burn.
Yes. Mad props to them!
And then we got into the "Should the Yankees trade for Papelbon thread..."
So yeah, that happened.
GIF of the Day
This is always funny.
A Flores and Williams showcase.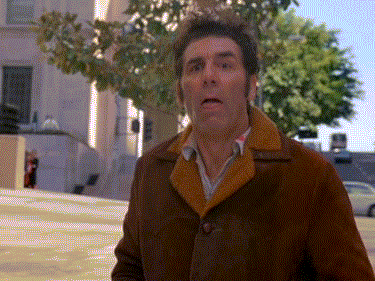 You can guess which thread these were from.
Honorable Mod Mention
Harlan, because Harlan for GM.
Fun Questions
Jurassic World is now in theaters. What's your favorite dinosaur?
If Mason Williams plays tonight, how many hits will he have his first day?
Song of the Day
Walk The Dinosaur by Was Not Was
It's Get Up And Dance week on Pinstripe Alley. Since Jurassic World is now playing, I figured this would be appropriate. As always, please link us your song of the day.
Feel free to use this as your open thread for the day. Substantial Miguel takes the mound tonight against the O's. I would like a lot of strike 'em outs.
go yankees go baseball open the door get on the floor