It behooves the Yankees to beat "not good" teams like the Rangers, especially when they have a really good team named the Royals coming in to town afterwards.
-I'mGivingYouARaise
While it may have behooved the Yankees to beat the Rangers, Pineda, Carpenter, and the defense essentially "dehooved" their chances last night. Yes, "dehooved" is not a word. It should be though, cause last night was just brutal to watch. The Yankees have had offensive struggles lately, so scoring nine runs and losing is just a righteous kick in the teeth. The vaunted bullpen, which was damn near untouchable in April, has been lackluster as of late. David Carpenter, who seems to give up runs whenever he's brought it, is on the list.
If we are to take any positives from yesterday it's that the offense scored nine runs,
Slade Heathcott
has a stellar first outing,
Alex Rodriguez
tied Babe Ruth on the all time RBI list, and that's about it. Slade deserves more playing time, so keep giving it to him.
Comments of the Day
MiLB Go Notes from Go Win lead the COTD pack again..
I had these on Thursday and I can confirm that they are spectacular.
Glad he used Blade II and not Blade III.
Adorable.
Kshaw is zany to the max.
Kinda sad, but still pretty funny.
GIF of the Day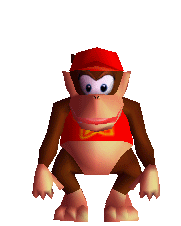 Didi hit a home run. Diddy is awesome!
Defeat!
Slade had a day though. Go Deathstroke.
Honorable Mod Mention
Ehhhh. Not much honor to be had.
Fun Questions
Song of the Day
Why Don't You Do Right? by Jessica Rabbit (Amy Irving)
The end of Soundtrack Week brings us a track from Who Framed Roger Rabbit. Amy Irving nails this classic jazz song. As always, please link us your song of the day.
Feel free to use this as your open thread for the day. CC Sabathia, we need you today. We need good CC. Offense, keep scoring. Defense, do better. Please.
go yankees go baseball i'm not bad i'm just drawn that way