So yesterday sucked. The Yankees blew a four run lead against the Nationals and lost in extra innings. The Yankees lost Jacoby Ellsbury to the Humbler. We awaited the MRI results to find out how serious his injury really is. Nathan Eovaldi could not give the Yankees any distance. Just not an ideal day. If we are to take some positives out of yesterday, and we should, it's that the offense looked a lot better. Carlos Beltran has a ten game hitting streak going. Mark Teixeira hit another home run. Even Stephen Drew had himself a day. Always sucks to waste that, but here we are. Try and split the series.
Comments of the Day
"Go Notes" from Go Win are coming at you. At least until someone things of a better name.
I love this site.
Ha. Drew showed you!
Get it done, Cash.
It didn't rain, so we didn't have to see Bryce Tarper
They're okay at baseball.
Harlan might be shedding a single tear right now.
It was an enjoyable inning.
I'm sure Nationals Park has a good pharmacy.
Matt F is okay. Trust us.
Pungineering.
Dr. Seuss is always awesome.
Why wouldn't other PSAers get the reference? Oh right. This theme song came out well before some members were even born. Sigh
Good times.
Poor guy
Welcome to the majors, Slade Heathcott.
GIF of the Day
This was the best tweet from the thread. It wins.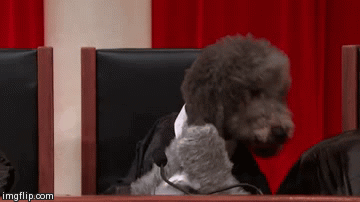 Defeat.
Honorable Mod Mention
Both Tanya and Matt F deserve the HMM from yesterday. They know what did.
Fun Questions
Name some of your least favorite candy.
How many innings does Warren pitch tonight?
Song of the Day
Soundtrack Week continues at Pinstripe Alley. Time for some 90's awesomeness with Goldeneye. As always, please link us your Song of the Day.
Feel free to use this as an open thread. It's up to you, Adam Warren. Please be good.
go yankees go baseball