There are a lot of comments and GIFs to get through, but all I want to say is that last night felt good. Sure, there's the concern that they blew all their offense on one game, but there's also the hope that this is what this team is capable of. Either way, last night was a pleasure.
Comments of the Day
This is all true.
This is all so very Nunez.
The Yankees knew how must win this must win game was, and happily they won it. It was a must.
Shoulda
The maddest of props to ASR for compiling our Nunez magic into one glorious fanpost.
Also equals Kruk.
Pinstripe Alley, ladies and gentlemen. Prepared for when shit goes south.
The Red Sox Wedding last night was pretty brutal.
It goes on and on and on and on.
What this says.
As long as Matt F doesn't propose to this game while at the game, we're cool
But, you know, Clay Buchholz was "unlucky" last night, per Schilling.
I know I muted them.
Yes McCann can can!
GIF of the Day
What I think of every time I hear the word "platoon."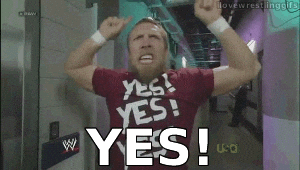 All the joy during the game!
All the joy after the game was over with!
Honorable Mod Mention
Yeah, I win the HMM yesterday. I called it!
Fun Questions
After a week, what do you think the Yankees lineup should look like?
How many strikeouts for

Michael Pineda

tonight?
Song of the Day
So yeah, I'm continuing with my Songs from Anime Week on Pinstripe Alley. There are many songs I could have chosen from Ghost in the Shell, but I decided on this one. The melody, Gabriela's voice. I just love them all. Hope you do as well. As always, please link us your Song of the Day.
Feel free to use this as an open thread. The Yankees are at Camden Yards to face the defending AL East champion Baltimore Orioles. Michael Pineda, or Substantial Miguel, will take the mound tonight against the Birds. Dare we hope for two wins in a row?
Beating on the Red Sox never gets old.