While some people were sleeping, others were watching the finale of the Australian Open last night/this morning. Novak Djokovic defeated Andy Murray in four sets to with the Australian Open Men's Singles Finals. Meanwhile, there is some other popular sporting event happening later on in the evening. I think. I do know that the Puppy Bowl and Kitten Bowl take place today. An adorable time is in store for all.
Comments of the Day
It was one of those days.
Derek Jeter: the idol of millions!
Good luckchiro!
Well now, that's all kinds of adorable.
Your 2015 New York Yankees, ladies and gentlemen.
Your 2013 New York Yankees, ladies and gentlemen.
Your "What if they played in 2007" New York Yankees, ladies and gentlemen.
"INCOMING!!!"
GIF of the Day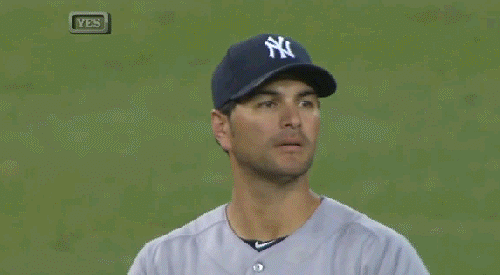 Ouch.
Honorable Mod Mention
Our newest writers, Vince Lia and Martin Stezano win the HMM award. Welcome aboard and don't spend all that sweet blogger coin in one place.
Fun Questions
Which are the most adorable: puppies or kittens?
Do you have any Super Bowl plans tonight?
Song of the Day
This week is Sports Theme Week on Pinstripe Alley. I mean, it is Super Bowl Sunday after all. What better day than to kick off this week's theme and what better song to start us off than the classic mockery of Weird Al Yankovic. As always, please link us your Song of the Day.
Feel free to use this as your open thread for the afternoon. Will you be watching the Puppy or Kitten Bowl this afternoon? Do you think your pet could win if he or she was entered?
So hey, are you moderately prepared for some football?