Brian Cashman, ladies and gentlemen. Fans, bloggers, and players named Eduardo Nunez have been waiting all offseason to see with Cashman had up his sleeve. We just didn't know we would have to wait till Ben Zobrist made his decision to find out. As of yesterday morning, the New York Mets were in line to sign Zobrist to a four year deal. As of this morning, Ben Zobrist is now the Cubs' second baseman. Thanks to the allure of being able to work with his old Rays' manager, Joe Maddon, the Cubs needed to clear the way for Zobrist. A deal was struck and now Starlin Castro is our new second baseman for the foreseeable future.
Adam Warren and Brendan Ryan are heading to Chicago, which is a fair price to pay for Castro's services. Despite thoughts to the contrary, Cashman and the Yankees shockingly did not feel that platooning Dustin Ackley and Rob Refsnyder at the position was the best way to go into the 2016 season. While Ackley will most likely serve as Mark Teixeira and Starlin Castro's backup, it is unclear what will become of Rob Refsnyder. There is a chance they try and trade him. He could just stay in Triple A in case the worst happens. We shall see.
It's pretty obvious that whatever plans Cashman has, they do not involve getting Jose Fernandez. The hot stove was hotter than hot yesterday as the Diamondbacks solidified their rotation by trading for Braves' starting pitching Shelby Miller. By trading, I mean allowing the Braves' to pillage and plunder their farm system. Seriously, just watch this video of Jim Callis talking about this trade. Count how many times he utters the word "shocked" as he fights back the urge to say "ARE YOU F'IN INSANE, D'BACKS?" into the camera. I think Craig Calcaterra sums it up best with this tweet.
The Cardinals thought Miller was worth a rental outfielder. The Dbacks think he's worth the franchise. Who do you trust more?

— Craig Calcaterra (@craigcalcaterra) December 9, 2015
Apparently, the D'Backs tried to offer something similar to this deal for Jose Fernandez. The Marlins still said no. The Yankees would probably have to give them the rights to the Railriders and the Thunder in order to get Fernandez. Sadly, it's not happening.
Comments of the Day
I'm so happy we've seen two of these kind of comment streams recently.
Let the festivities begin.
Matt P is correct. The Cubs supposedly asked for Brett Gardner and Cashman said "no."
We've now reached the "I'm not quite sure why we're having this conversation" part of the COTDs.
Gardner, Ref, and Ganymede, one of Jupiter's moons.
We all want things.
Welcome back, Miranda.
Yeah...I don't get it.
Since this apparently needs to be stated, allow us to reiterate that we do not hate Rob Refsnyder. Many people here were rooting for him all the way, but you cannot expect us to be upset with the Yankees going with Castro over platooning Ref with Ackley. They've gone damn near out of their way not to play Refsnyder, so they clearly have different plans for him and know something we don't.
Cashman had a plan all along.
Commence the wank!
GIF of the Day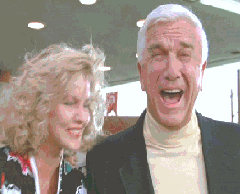 Pretty much this.
Honorable Mod Mention
Harlan wins the HMM for this highly blue'd comment.
Fun Questions
With Starlin Castro now on the team, construct your Yankees opening day lineup!
Brian Cashman got Castro for Adam Warren and Brendan Ryan. Greg Cashman got Castro for Ian Clarkin,

Jacob Lindgren

, and

Jose De Leon

. Which Cashman do you think made the better trade?
Song of the Day
You Can Make It If You Try by Sly And The Family Stone
It's Got To Be Funky week on Pinstripe Alley. I figured this would be an appropriate song for today, after Cashman's trade. We can indeed make it if we try. As always, please link us your song of the day.
Feel free to use this as your open thread for the day. Will Cashman get us another starting pitcher? The Winter Meetings move right along.