So I was wrong. Christmas has come and gone and Santa Cashman did not bring the Yankees any toys or goodies. He didn't even bother to leave a coal in our respective stockings. I haven't decided yet whether this is a good thing or a bad thing. On the one hand, Cashman dropping a major free agent signing or trade on Christmas Eve or Christmas Day would be pretty rude to bloggers and writers everywhere. On the other hand, it would really give us something to talk about right now. Since Christmas is over with, now would be the perfect time to announce some kind of move. Perhaps get an ace starter during a post Christmas sale? Get it done, Cash.
Comments of the Day
Nothing to see here. Surprisingly, many of you were not around on Christmas Day. Probably spending time with your families and all that.
GIF of the Day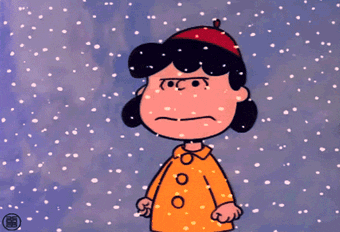 I agree with Lucy. No snow, no baseball presents, no nothing!
Honorable Mod Mention
It's Christmas. Every mod is a winner!
Fun Questions
How did you spend your Christmas?
Did you get anything nice for Christmas?
Song of the Day
The Night Santa Went Crazy by Weird Al Yankovic
It's the end of X-Mas week on Pinstripe Alley. What better way to end X-Mas week than with Weird Al singing about Santa going nuts? As always, please link us your song of the day.
Feel free to use this as your open thread for the day. Pinstripe Alley hopes you had a great holiday. Now let's get back to our time honored tradition of waiting for the Yankees to do stuff.