The Royals are beginning their victory tour around the country. In case you didn't see photos of the celebration in Kansas City, just picture the scene in The Lord of the Rings: The Return of the King where Sauron's army is leaving Mt. Doom and heading for the black gate. Only brighter, bluer and less (or more) evil. Alex Gordon, he of the heroic Game 1 home run off of Jeurys Familia fame, has elected to go with free agency. If the Royals do not bring him back, he will probably get a good deal from some team out there.
Meanwhile,
the San Francisco Giants have declined the options of Nori Aoki and Marlon Byrd.
It is unlikely that the Yankees will pick up any of these players, but it does make the free agent pool a bit more interesting, in terms of outfielders. Outside of the hitting coach promotions, it has been a pretty slow offseason for our beloved Bronx Bombers. It's still early though. It's also not Friday. If last year was any indication, Brian Cashman and his crew enjoyed waiting until Friday to make any kind of move.
Comments of the Day
The puns alone are a great reason to sign Wei-Yin Chen.
GIF of the Day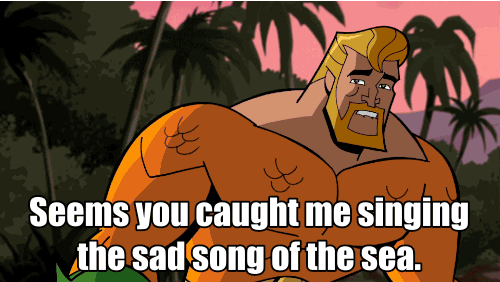 Pretty much, yeah.
Honorable Mod Mention
Letstalk Abouttexbaby, also know as Harlan, wins for his witty COTD worthy pun.
Fun Questions
Not including villains, who is your favorite Batman supporting character?
Least favorite Batman villain?
Song of the Day
Drives Us Bats by Neil Patrick Harris
It's Batman Week on Pinstripe Alley. Today's entry comes from the cartoon Batman: The Brave and the Bold, a lighthearted and more comedic attempt at the World's Greatest Detective. Although, I'm still not 100% sure how this Birds of Prey song made it through the censors. As always, please link us your song of the day.
Feel free to use this as your open thread for the day. There's Thursday Night Football on tonight, so yay? I feel that the TNF theme should play every time you mention TNF.