We are now on the second day in a row without any baseball to watch. The Mets and Royals rudely did not make this a seven game World Series. If they did, we would have baseball to watch tonight. But they didn't, so we don't. Jerkstores, the whole lot of them. The Yankees did make some offseason moves yesterday, in terms of their coaching staff. Alan Cockrell and Marcus Thames were both promoted. Cockrell will take over as the hitting coach, while Thames will be the assistant hitting coach, a title previously held by Cockrell himself. As Jason wrote about yesterday, Thames work with Greg Bird, Aaron Judge, Rob Refsnyder, and other young prospect is what probably earned him his promotion. Or maybe they just like looking at this video as much as I do.
Eat it, Papelbon!
Comments of the Day
The offseason needs laughter.
GIF of the Day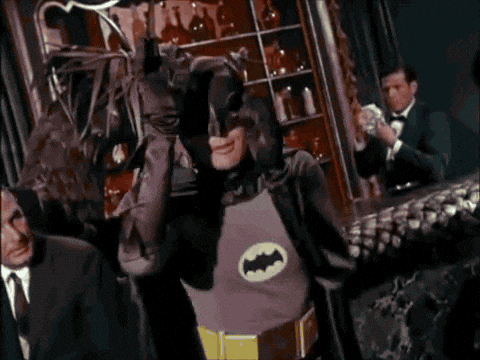 I love this so much.
Honorable Mod Mention
Let's give it to Jason! There's no proof that he's not Batman, after all.
Fun Questions
What do you feel is Batman's most useful asset? (Tech, intelligence, money, training, etc.)
The Nationals offered Bud Black a one year and $1.6 million dollar contract. Come up with a more hilarious low-ball offer.
Song of the Day
Batman '66 Theme by Neil Hefti
It's Batman Week on Pinstripe Alley. There was no way I could pass up an opportunity to post some truly classic Batman music, in all it's jazzy Bat-glory! As always, please link us your song of the day.
Feel free to use this as your open thread for the day. What do you think about Cockrell and Thames' promotions?