The Yankees have still done nothing that we want them to do yet. We still cannot all agree on what the Yankees should or should not do yet. Such is sports fandom after all. They could still do something though, instead of waiting till Thanksgiving dinner is served to make a blockbuster trade or free agent signing. Trust us, that's definitely going to be a thing they do because screw bloggers and writers.
The Mariners and the Marlins, the two Mars of MLB, have discussed a trade that involves sending Marcell Ozuna to the Mariners for [insert unknown young pitcher's name here]. As of the time this COTD post is being written (3:40AM for those curious) nothing has been set in stone. It's unclear whom the Mariners are willing to give up or who exactly the Marlins want in return. It has been speculated that the Marlins want to get rid of Marcell Ozuna than later because Loria, in peak Loria fashion, doesn't like him. For the record, Greg Cashman is still really bitter that his trade with the Marlins GM for Giancarlo Stanton was blocked because Stanton wouldn't want out of that clusterbunt after just a year. Bollocks, I say. Perhaps Brian Cashman can swoop in and get Ozuna and Jose Fernandez for Gardner and Nova? I don't see why not. Get it done, Cash!
Finally, there have been some interesting thoughts as to what the Yankees do at second base next year. Signing Ben Zobrist, trading for Robinson Cano, or going with a Dustin Ackley/Rob Refsnyder platoon. Ignoring the first two, let's focus on Acksynder. If the Yankees do go with that option, is the Acksynder platoon really going to be a thing? Cashman has wanted Ackley for a while. It's possible that they think the Mariners organization was doing him no good, much like Didi and the D'Backs. Could they just go with Ackley at second, instead of a platoon? Or do they finally think Refsnyder is ready? In any case, I don't think it's a certainty that they are going to platoon them. It very well might be one or the other.
Comments of the Day
The Captain America: Civil War trailer is your COTD.
GIF of the Day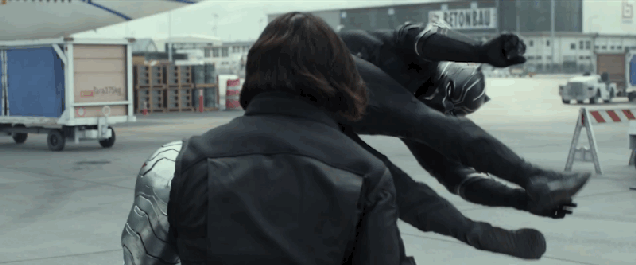 T'Challa kicking Bucky in the face is your GOTD!
Honorable Mod Mention
Shah is the HMM for his perfect choice of a SOTD week this week, in lieu of this trailer.
Fun Questions
What is your favorite non-MCU Marvel movie? (Spider-Man franchise, X-Men franchise, etc.)
Turkey: White Meat, Dark Meat, both, or do you prefer ham?
Song of the Day
X-Men: The Animated Series Theme by Shuki Levi & Ron Wasserman
It's Marvel week on Pinstripe Alley. Even with the awesome trailer just released, I wanted to shy away from the movie soundtracks for a sec and get to what is arguably one of their greatest animated achievements. The 90's X-Men cartoon opening is one of the best of all time, from any cartoon. The cartoon, while faltering a bit towards the end, is still pretty solid. As always, please link us your song of the day.
Feel free to use this as your open thread for the day. If the Mariners get Ozuna, it could mean that they're no longer interested in Brett Gardner. Where could you see Gardner winding up? Or Nova, for that matter?