Rumors were all the rage yesterday. Of course, by "all the rage" I simply mean there was one rumor about Brett Gardner potentially being traded to the Chicago Cubs for Starlin Castro. Jon Heyman quickly shot down that rumor, which is probably for the best. Gardner trade rumors are likely to be all the rage this offseason, especially with the Yankees trading for Aaron Hicks. It's unclear where Gardner is heading, or if the Yankees even have any interest in Castro. All I know is that some GMs were able to Castro for much less. Just saying.
The roster was also all the rage yesterday, as the Yankees added
Rookie Davis
,
Johnny Barbato
, and
Ben Gamel
to the 40-man roster. Those are all solid names for pun purposes, Rookie Davis being the best of course.
As Andrew wrote about yesterday
, choosing Gamel over Jack Cave poses some interesting questions. We'll see if anyone claims Cave. Oh yeah, and the
Rays
picked up Chase Whitley. Hopefully he's learned his lesson and he will not try and hide future injuries from his new team.
Comments of the Day
That sounds about right.
Just remember the name "Kyle Holder" in the future.
Some thoughts regarding Starlin Castro.
GIF of the Day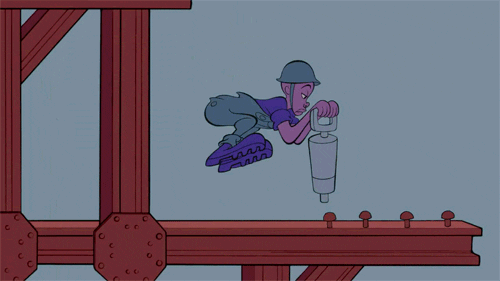 That's dangerous.
Honorable Mod Mention
Harlan & Andrew win for providing PSA with a point/counterpoint on Castro without calling each other names! Well done.
Fun Questions
How much do you think Brett Gardner is actually worth?
Coolest piece of construction equipment?
Song of the Day
Rhapsody in Blue by George Gershwin
It's (Cartoon) Compositions week on Pinstripe Alley. As Shah used a track from Disney's Fantastia, I decided to use a track from Disney's Fantastia 2000. I was so happy when I saw this was in the movie, as it is quite possibly my favorite composition of all time. As always, please link us your song of the day.
Feel free to use this as your open thread for the day. For the record, I'd fire Greg Cashman as well.