Brian Cashman still has not signed Zack Greinke, what a jerkstore. Cashman has still been relatively quiet, but I guess that's how the best ninjas are. Aside from some probably nothing rumblings regarding Brett Gardner (one random guy said something that no one else has since mentioned), news on the Yankees front itself has remained quiet. Luckily, just because news directly regarding the team has been non-existent, that doesn't mean there's been no news that affects the team. Yesterday, long-time Red Sox DH David Ortiz announced that the 2016 season will be his last one. This news does not really come as a surprise as today also happens to be his 40th birthday, and the grind of a full season would almost certainly take its toll on someone at that age. What's funny about this is Ortiz has previously said he would not announce his retirement before a season like Mariano Rivera and Derek Jeter did.
I'm not going to wake up and be like, 'I'm going to play this year and then not anymore.' To me, it's going to be how things go through the season and how I feel and then I'm going to be like, 'Mama, it's over.' I'm going to let her know."
It's definitely going to be interesting to see if Ortiz gets a similar "farewell tour" because even though he's been a very good player, has been good enough to deserve something like that? Yankees fans can't really complain (though I probably still will), after the rest of baseball had to deal with two back-to-back farewell tours for Rivera and Jeter, respectively. Along with the farewell tour question comes the inevitable Hall of Fame question. He's probably going to get voted in, and that to me is absurd because Edgar Martinez is not in the Hall of Fame, and he's the Edgar Martinez!
In other baseball news, the AL and NL Manager of the Year awards were handed out yesterday. Jeff Banister of the Rangers won the AL, while Joe Maddon of the Cubs took home the honor in the NL. There's really nothing too surprising about the winners in each league, although one could make the argument that Terry Collins of the Mets might have deserved it over Maddon, but I guess Maddon got the nod by virtue of his team having the better record and arguably being the better team at the time of voting. Remember, voting is done before the playoffs begin. What's noteworthy though, is that Yankees' skipper Joe Girardi finished 5th in Manager of the Year voting for the AL, and received two 1st place votes. It's nice that Girardi at least got some recognition for the work he did this year. Girardi has also received at least a 3rd place vote in 8 of the 9 seasons he's managed. It's almost like he's not a bad manager.
Comments of the Day
And bullpen phones everywhere will soon live without fear.
Yankee Stadium needs to make all of these things happen!
GIF of the Day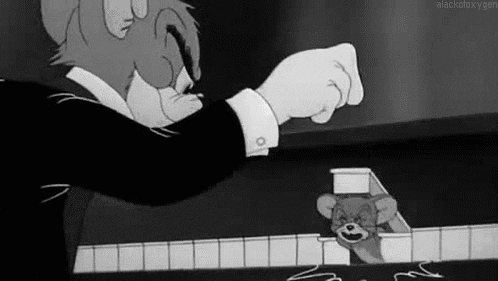 Maybe don't go inside the piano when he's trying to play some music, Jerry!
Honorable Mod Mention
"Jose Fernandez is on the block? Why, he's the bee's knees! That cat can really twirl the apple!" pic.twitter.com/B3aVFIYRQs

— Pinstripe Alley (@pinstripealley) November 18, 2015
Andrew wins for getting this image from the upcoming Brian Cashman biopic where Cashman will be played by Stanley Tucci this image/tweet combo.
Fun Questions
In Tom & Jerry, is Tom the bad guy or is Jerry?
You can only eat one type of food for the rest of your life. What is it? (pizza, pasta, burgers, tacos, etc.)
Song of the Day
Hungarian Rhapsody No. 2 by Franz Liszt
It's compositions week on Pinstripe Alley. Expanding of my "knowledge" of music I know from cartoons comes this piece that one may or may not recognize from the Tom & Jerry segment, The Cat Concerto.
Feel free to use this as your open thread for the day. Are you happy (or sad? maybe someone out there?) that Ortiz has finally announced his retirement and won't be around to menace the Yankees for much longer? Do you think Girardi should have gotten more first place votes for Manager of the Year or were you happy that he was just recognized at all?