The Seattle Mariners and the Texas Rangers made a trade yesterday. If you imagined me saying that in a monotone voice, then well done. You've guessed my reaction to this news properly. Still though, this trade does raise questions in the merry ol' land of pinstripes. The Mariners acquired Leonys Martin and Anthony Bass in exchange for Tom Wilhelmsen, James Jones, and A. Pitbanal. I assume "Pitbanal" is how you pronounce PTBNL, also known as a player to be named later. It's very possible that I'm wrong though.
What does this have to do with the
Yankees
, you might ask. Earlier in the offseason, it was rumored that the Mariners were interested in acquiring the outfield services of one Brett Gardner. Nothing has come of that initial rumor, meaning it was most likely just that. It still remains to be seen if the Mariners want Gardner. Getting Martin could dissuade them of pursuing him. If you imagined me saying that with a smile on my face, congratulations. You're two for two.
Comments of the Day
Knowing the Red Sox, they probably think he's worth Jacob deGrom or something.
GIF of the Day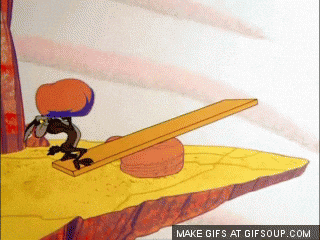 Road Runner and Wile E Coyote cartoons will always put a smile on my face.
Honorable Mod Mention
Oh, I win for being Greg Cashman until Wednesday. We'll discuss this more at a later date.
Fun Questions
Best "quickest" meal you can make?
If you were designing Yankee Stadium III, what would you add to it or take away from it?
Song of the Day
Dance Of The Comedians by Bedřich Smetana
It's Compositions week on Pinstripe Alley. If you needed further proof as to the fact that Shah & I are the same person, look no further than his choice yesterday and my choice for today. Before he picked his song, this selection, inspired from classic Road Runner cartoons, was going to be my selection for today. I'm just glad he didn't pick this exact song. As always, please link us your song of the day.
Feel free to use this as your open thread for the day. Let's hope the Yankees sign Zack Grienke today. That would be swell.