We are still playing the waiting game and it still sucks. The Mets and the Royals will face each other tomorrow at Kauffman Stadium. Tomorrow, as in not today. We still have another day of no baseball. The reality of this "no baseball" situation is really starting to settle in. It is not a good feeling. Many baseball fans are rooting for a seven game series just so they squeeze as much baseball out of the World Series as possible. Of course, if the Yankees were in, we'd probably all be rooting for a sweep of demolishing proportions. Ah well, maybe next year.
Comments of the Day
I feel the same way as Harlan. Especially the latter part.
GIF of the Day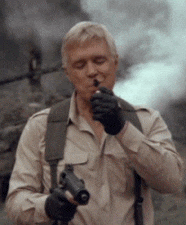 This is my GOTD because of my SOTD.
Honorable Mod Mention
I'm going to give Shah the HMM for creating a SOTD theme week in which I get to post The A-Team Theme!
Fun Questions
Furthering Greg's favorite player question from the past two days, which player on the Mets or Royals do you dislike the most?
If you could un-cancel one and only one TV show, which show would you choose?
Song of the Day
The A-Team Theme by The Daniel Caine Orchestra
It's TV Theme Song Week on Pinstripe Alley. Since the Mets and Royals have not won a World Series Championship since the mid 80's, I thought I'd go with a classic 80's TV theme. One of the all time best. As always, please link us your song of the day.
Feel free to use this as your open thread for the day. Yeah yeah, there's a football game on later tonight. Oh, and the premiere of Supergirl, which I'm looking forward to. But still, no baseball makes baseball fans sad.