Amazingly enough, Captain Shah thought he could get away with dropping his cargo at the first sign of trouble and not expect repercussions. That is why he is currently encased in Carbonite and on his way to decorate the wall of Jabba's palace. That'll serve that silly little smuggler right. No worries though, as I'm once again taking charge of the situation. Remember that the Dark Side has a fresh box of cookies waiting for you when you join up. They're girl scout cookies.
In things that have very little to do with that amazing Star Wars trailer, the postseason rolls on like BB-8. Last night was a reminder to baseball fans that the Blue Jays offense is still pretty dangerous. Johnny Cueto took the mound for the Royals and he couldn't Cuet find his command last night, only lasting two whole innings after giving up eight earned runs. The Royals did manage to score eight runs of their own, but they couldn't complete their comeback. Game 4 of the ALCS will be on at 4PM today and it will feature R.A. Dickey vs. Chris Young, two former Mets pitchers.
Speaking of the Mets, they are now at Wrigley Field to face the Cubs in Game 3 of the NLCS. Being at their home field seemed to help the Blue Jays bats come alive against the Royals. The Cubbies need to bounce back in a very similar fashion if they hope to see the World Series. That will be no easy task though. They are up against Jacob deGrom, who is arguably the Amazins' best pitcher. Kyle Hendricks will take the mound for the Cubs. Maybe he'll find a way to get Daniel Murphy out. However, the odds of Hendricks doing that are approximately 3,720 to 1.
Comments of the Day
The Mets had John Mayberry Jr. in the cleanup spot at one point in June. That right there pretty much tells you everything you need to know about why the Mets are suddenly hitting and scoring runs.
GIF of the Day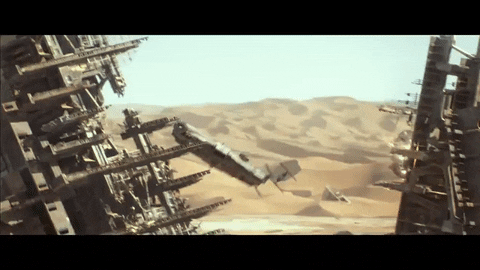 It's this because I say it is!
Honorable Mod Mention
The HMM goes to Caitlin for her post on how to write Fanposts. It's still up there and you should read it.
Fun Questions
If you created your own beer or ale, what would you name it?
Song of the Day
Don't Stop Me Now by Queen
It's Queen Week on Pinstripe Alley. There are many fantastic Queen songs. Whenever someone tells me this is their favorite, I cannot really argue it. As always, please link us your song of the day.
Feel free to use this as your open thread for the day. You can talk about anything. Baseball, Star Wars, the Yankees, Star, Wars, Alex Rodriguez on FS1, Game of Thrones, Star Wars, more Star Wars, or whatever tickles your Fett. Just don't be Leia-zy.
don't stop me now i'm having such a good time