One win is not too much to ask for. It really isn't. However, nothing is working for the Yankees right now, except maybe Andrew Miller. The pitching has not been able to lock down the Red Sox offense, and our own offense has not been able to get that one key hit. It's like watching the 2014 Yankees. If they do manage a big hit, it's either an ground rule double, stopped by some amazing defense, or just foul. While August was just a pretty meh month, this month has been meh combined with the frustration of bad luck. In any case, it would be ideal not to get swept by the Red Sox for this last home series. Just one win, please. Please?
Comments of the Day
The fact that we're even having this conversation hurts the brain.
A much beloved classic. One might say it's Bueno Nacho.
GIF of the Day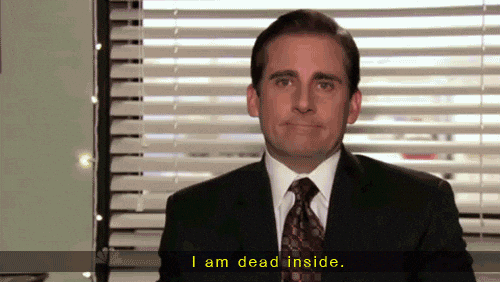 Defeat!
Honorable Mod Mention
Matt F wins for the COTD above.
Fun Questions
What is your preferred type of cup/mug/glass to drink out of?
The Force. Light side or Dark side?
Song of the Day
Leaves That Are Green by Simon and Garfunkel
It's Autumn Week on Pinstripe Alley. Definite fall song here from Simon and Garfunkel. Appropriate today, as it really feels like Autumn today in NYC. As always, please link us your song of the day.
Feel free to use this as your open thread for the day. I will kneel at the alter of CC Sabathia's knee brace if he can shut down the Red Sox tonight.
go yankees go baseball time hurries on