And all day and all night and everything that we see is just Drew like him, inside and outside.. okay now I'll stop. You should at least be able to guess the Song of the Day by now. The Yankees have signed Stephen Drew, yes that very same Stephen Drew you were so fond of watching last year, to a one year, $5 million dollar deal. On the one hand, this really didn't cost that much. On the other hand, he's Stephen Drew. Let the Blue comments commence!
Comments of the Day
It's really funny that these two comments were the first Blue'd comments of the day. Foreshadowing.
Oh Amaro...
I don't think we could handle another thrashing.
Oh yeah, the Hall of Fame votes were in today. That seems so long ago.
Preach it, Harlan!
Prof. Farnsworth has the right idea.
Billsing does get painful to watch after a while.
To alcohol. The cause of, and solution to, all of life's problems!
Well this might not be a problem shortly.
That is quite the ugly picture.
Pretty much this.
/violently shudders
Gotta agree with Katara here.
Prove me wrong, Yankees. Prove me wrong!
No Refsnyder and no Pirela make Yankee fans something something...
GIF of the Day
We have a bunch coming! All of them are reaction GIFs to the Drew signing.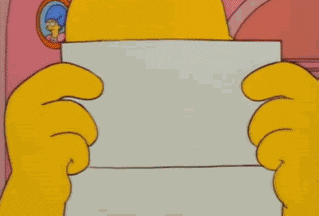 So yeah, we signed Stephen Drew.
Honorable Mod Mention
Tanya wins the HMM award due to the awesome cheesy music party time we had last night. Nelly was involved at one point.
Fun Questions
What's your ideal situation at second base for the Yankees this year?
Name some your favorite sci-fi/superhero/fantasy main theme songs (Batman theme, opening to Game of Thrones, etc.)
Song of the Day
What's really funny is that this was going to be today's song even before the Yankees signed Drew. I guessed it worked out. Yay. As always, please link us your Song of the Day.
Well, I think we all know the topic of discussion. Discuss away. If you have any more classic cheesy techno songs, feel free to list them.
Da Ba Dee Da Ba Die