The lack of baseball is really starting to hit home. Even though pitchers and catchers do not report for another 46 days, there's still a good three months before the season begins. Way too long if you ask me. Come back to us, baseball.
Comments of the Day
Chasen Shreve is really a fascinating name.
I never had anything against the Colts or Andrew Luck...until this season. LTL and other members of the PSA Fantasy Football league know why.
Bills fandom is a heavy burden.
And we're back to this discussion again.
Like Harlan said, long term deals for players is nothing new.
GIF of the Day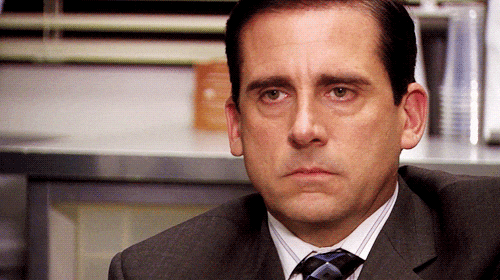 I think many of us have the same look when seeing the same discussion being repeated over and over again.
Honorable Mod Mention
I knew back then that those incredible years were going to spoil Yankee fans for generations. I was not disappointed with my prediction.
Fun Questions
What is your ideal Super Bowl food?
If you could control one of the four elements, which would you choose? (I might have asked this last year, but since it's a new year just roll with it)
Song of the Day
As always, please link us your Song of the Day.
Playoff football starts today around 1PM on the East Coast. Feel free to use this as your open thread this afternoon. Also, I appreciate no one pointing out that the headline of yesterday's COTD Thread said 1/3/14 instead of 1/3/15. That's gonna take some getting use to.
Come back soon, baseball.