Comment of the Game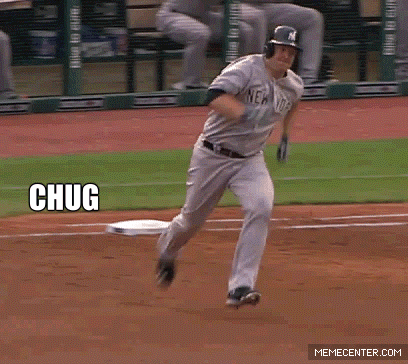 GIFS ARE BACK! It could be what influenced the COTG award going to MinigunMadness for this classic McCann GIF.
Best GIF of the Recap
This award has meaning & purpose again, now that our precious ability to post GIFs is back. Our very own GIF Sgt, BlackandGoldTSgt, wins the BGOTR award with this gem. It's good to be back.
Honorable Mod Mention
We have two HMM awards to hand out this afternoon. The first goes to Jason, for his thoughts on how MLB should handle its image when it comes to more serious, off-the-field issues.
The second HMM award goes to Tanya for her poignant Mary Poppins post. Even though the Yankees wound up winning, it's still a fair attitude for Waffles to have on this season.
Best Comments of the Day
The first COTD award goes to Elcruzter55, who is properly planning for the future!
Our second COTD award goes to carp68, who asks the important question about third base coach Rob Thomson.
Our last COTD award goes to LTL for playing Devil's Advocate. Of course, I assume "playing" meant "watching" Devil's Advocate, because he's such a huge Keanu Reeves fan.
Fun Questions
Do you honestly think Jeter will hit another home run before the season ends?
Favorite type of cheese?
Song of the Day
Oh yeah, as always link us you song of the day!
Michael Pineda
takes the mound as the Yankees hope to take the series from the
Rays
and keep up their winning ways. It's always exciting to watch Pineda pitch, so let's hope for the best.
Our thoughts and best wishes go out to the families of those who lost loved ones on that tragic day many years ago, as well as to the first responders whose courage and bravery cannot be measured.