Comment of the Game
Blanky emerges victorious as yesterday's COTG winner. Yeah, Nuno & Hughes against Abreu is a scary thought.
Best GIF of the Recap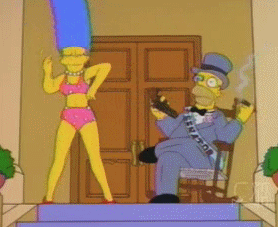 We're gonna combine the BGOTR & the HMM today, since we have two winning GIFs, both from Mods. We will decide which mod gets which award with a race around the world. Tanya has agreed to foot the bill with her sweet blogger coin.
Best Comments of the Day
It was YankeeRaven's birthday yesterday. He wished for a Yankee win, and he received his birthday victory.
Fun Questions
Do you prefer to go to baseball games in the afternoon or the evening?
What was/is for breakfast this morning?
Song of the Day
Doctor Who Theme (1980-1985)
by
Peter Howell
The new season of Doctor Who starts tonight, so I figured this was appropriate. As always, link us your Song of the Day!
The
Yankees
will send
Hiroki Kuroda
to the mound to face off against
Scott Carroll
of the
White Sox
. The Yankees offense still needs to score some more runs once in a while. I'm sure Kuroda would appreciate if they would start this "run scoring" philosophy for him. They kind of owe him.
Let's Go Yankees