You might want to start getting your best Miller GIFs and puns prepared, because it seems that the Yankees really want Andrew Miller. There has been no official conformation yet, but the Astros are supposedly out of the race for him. That could push the Yankees to the top of the list. This does not mean that they plan to let David Robertson walk. One has to imagine that they salivate at the thought of a Miller/Betances/Robertson bullpen just as much as we do. If the Yankees do anything right, it's make us fans happy...
Comments of the Day
Shaun nominates Derby for the Yankees' hitting coach position. Those who do not approve of his choice may be IP banned from Pinstripe Alley.
LTL throws us a bone regarding how that conversation would go.
Apparently, LTL shares why he would prefer Jon Lester over Max Scherzer. Shockingly, he doesn't mention that he would change his name to long time lesterner.
Andrew points out that the leak might be a ploy by the Cubs. Could Clark be behind this?
Here's what Lester would look like in pinstripes. Not a terrible look for him.
Sadly, it looks like this may not be happening. We should find out soon enough.
Onto more pressing matters. Harlan flawlessly points out why we now need BOTH Yoan Moncada and Yoan Lopez on the team.
GIF of the Day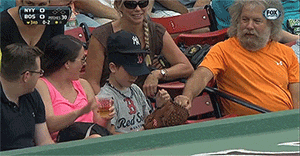 This kid seems kind of like a front runner. Broke College Kid may know more.
Honorable Mod Mention
Shaun promises to mold his nephew into not just a Yankee fan, but a future Yankee outfielder. There is no more honorable cause.
Fun Questions
Name a fictional character you'd like to be the Yankees' hitting coach.
Italian automobiles: Ferrari or Lamborghini?
Song of the Day
As always, please link us your Song of the Day.
No really, sign both Miller and Robertson. Combine the two of them with Betances and the potential of Lindgren. That would probably be the most dominant bullpen in the majors. Now if you'll excuse me, I must wipe the drool up off the floor.
Winter Meetings are coming