Comments of the Day
NoMahbles was saddened by the loss of Zoilo Almonte. I'm sure everyone who enjoyed name puns was as well.
Meanwhile, Cito Culver is apparently still a thing, as Andrew discovered. "To" crazy is right!
Actually it's not, as Harlan perfectly points out with the help of Ralph Wiggum.
LTL plays the role of frankiec. We all thought news of Elvis Andrus would bring him back to us.
GIF of the Day
Since Zoilo is now on the Braves, this will probably be the last time this GIF will ever win the GOTD award.
Honorable Mod Mention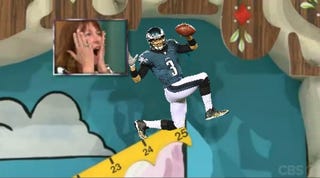 I posted this last night and it wins because it's quite possibly the best photoshop ever made.
Fun Questions
If you could pick a Japanese Baseball Team to root for, which would you pick?
Favorite orchestral piece of music? (I asked this one long ago. Let's see if we get some new answers from some new members)
Song of the Day
No really, this is an amazing remix of this classic Super Mario World song. I'm so stoked for the soundtrack to this game. As always, link us your song of the day!
You know what? There's baseball on right now. Or rather, there was baseball on about seven hours ago. The Japan All-Star series is underway. Did anyone here stay up to watch it? Meanwhile, in the Yankee Universe, David Robertson has rejected the Yankees' QO. This should shock no one. Zoilo Almonte was signed by the Atlanta Braves to a major league deal. This should shock someone. Dellin Betances finished third in AL Rookie of the Year award voting. This should shock some and anger others.
Betances was robbed