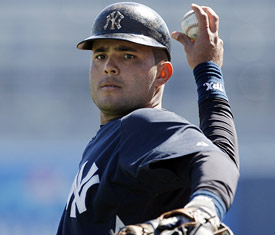 It's only nine games, but Thursday night's 3-for-4 with a home run and a walk against Toledo boosts Jesus Montero's rates for the month to .333/.488/.567. More importantly, if my figurin' is right, since the beginning of June, he's hit .295/.372/.519 with 10 doubles, two triples, and five home runs. It's not the .337/.389/.562 of last season, but it's headed in the right direction. I might have suggested that the near-trade to Seattle for Cliff Lee played in role in Montero's awakening, but he was already on his way before the Yankees dangled him over the Safeco Field abyss.
It seems spectacularly unlikely that Montero will get any real Major League action this year given that he's not on the 40-man roster, and that's certainly defensible given his age and inexperience. Still, the DH situation needs a solution. Of late, the upshot of the lack of a regular at the position has meant semi-regular action for Colin Curtis in right field. While I applaud the Yankees giving any of their young players a chance, Curtis' record is not one to inspire confidence in his ability to carry a corner spot, or any spot. There has got to be a better way.
Remember, teams can hunt for pitching, but one solution to a shortage of hurlers is to increase your chances on offense. If you can't raise the bridge, lower the river.
600 LINES ABOUT 30 TEAMS, PART 2
Cincinnati Reds
Scott Rolen: I figure him for the Hall of Fame eventually, especially if he can maintain this good season all the way through, keeping up his production and staying off the disabled list. He should finish the year with close to 2000 hits, his next home run will put him over 300 for his career, and he's also got six All-Star selections and seven Gold Gloves. Next year, he should break into the top 10 for career games at third base. The only thing stopping him is… Ron Santo.
Bronson Arroyo: Arroyo epitomizes the problem the Reds will have even if they hang on to win the NL Central. He has pitched reasonably well, but his strikeout rate is only 4.3 per nine innings. The Reds as a whole are K-ing 6.5 per nine innings, but that's on the low side in a league where the top teams are whiffing eight batters a game. The Reds are third from last in this category, and that's a dangerous thing—in the playoffs, you face the best offenses. When a good-hitting team puts the ball in play, bad things happen. The more batters walk back to the dugout holding their bats the better the outcome. The Reds are going to have to it the hard way.
Cleveland Indians
Shelley Duncan: Good to see him get another chance and make something of it. It's that bad teams that are normally willing to take a chance on a journeyman like Duncan, figuring they have nothing to lose. See Garrett Jones last year in Pittsburgh. If they perform well, the Jones and Duncans of the world can make themselves attractive to the contenders and have a few years as a role player for a team that actually goes somewhere.
Jhonny Peralta: In a world in which shortstops who can hit with reasonable competence are suddenly scarce, one wonders what the Indians could get for the 28-year-old from a team like the Tigers, which is essentially shortstop-less. Peralta wouldn't make anyone in Detroit forget Alan Trammell with the glove, but he might make them forget Danny Worth, which would be an accomplishment. Given that the Tigers are trailing a fairly weak White Sox team, some kind of move needs to be made, the team acquiring Peralta can buy him out of his 2011 option for $250,000 if they feel like it, and Peralta won't be part of the next great Indians team, not as a light-hitting third baseman.
Colorado Rockies
Dexter Fowler: The Rockies have five outfielders on their active roster, plus Eric Young, Jr. on the 15-day disabled list. They've also stuck old Melvin Mora in the pasture a couple of times. Jim Tracy likes to mix and match and platoon out there. This seems like a surplus to be exploited, and while Fowler, just back from the minors, is unlikely to go anywhere, there might be some small market for Ryan Spilborghs as a platoon/fourth outfielder or Brad Hawpe, whose contract can be bought out after the season, as a DH type…
Jason Hammel: Nothing deep to say, except that a pitcher who couldn't pitch for the Rays but has been strong for the Rockies proves that the universe is a wonderfully capricious place.
Detroit Tigers
Austin Jackson: Since April ended, he's hit .271/.322/.360 with no home runs. Folks were ready to bury the Yankees for the Granderson trade at the beginning of the season, but by time it's all over that notion is going to seem ludicrous.
Phil Coke: Of course, the trade wasn't only Jackson. The Yankees gave up Ian Kennedy, who has pitched well for the D'Backs, as well as the Pause That Refreshes. Not many spot lefties go 5-0, although that's a bit flukey. He hasn't dominated lefties (.254/.324/.313) but he's been solid against everyone and has allowed only one home run this year despite a high fly ball rate. The Yankees could use an everyday middle man like Coke, or like VegitaBeta for that matter.