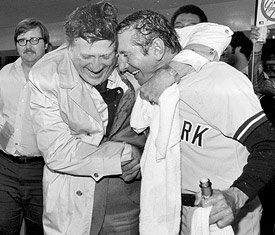 George Steinbrenner, if he could look back at the moment of his own passing from some celestial vantage point, might smile at the notion that it came on the day of the All-Star Game, when other news is not supposed to upstage the big event. Steinbrenner loved to grab the back pages, to get the headlines for his efforts, be it with a managerial firing, a big free agent signing, or even a Spring Training victory over the Mets. Getting that attention for his ballclub was important to Steinbrenner, sometimes disproportionately so, and I think the notion that he had had done it again, made the news at the expense of the rest of baseball this one last time, would have pleased him.
Steinbrenner was a notoriously difficult and changeable person, and yet could be kindhearted and generous. His treatment of Billy Martin epitomizes the man's many sides. He could be unduly harsh with Martin, a man who was ill-equipped to battle the owner on anything like equal terms, but also tolerated some of the latter's boozy indiscretions. Some looked on his fivefold hirings and firings of Martin as cruel; they were, I think, also charitable. Martin was popular and effective, and Steinbrenner reaped benefits from both qualities, but he also employed and re-employed a man whose weaknesses made him untouchable to other organizations. When Martin burned his bridges in Oakland, that probably ended his chances with anyone except George Steinbrenner, but in spite of the frequent animosity between manager and owner, he always had a home with the Yankees.
Steinbrenner was impatient by nature. A Yankees front office employee once told me of his first contact with the owner. On his first day on the job, his office phone rang. He answered. "Who the [bleep] is this?" a familiar voice said. It seems that Steinbrenner hadn't bothered learning the office phone numbers around Yankee Stadium, but simply dialed an office at random and then asked to be connected to the person he really wanted to speak with. Attempting to effect the requested transfer but nervous and unfamiliar with the phone system, the new hire accidentally hung up on the Boss. He spent the rest of his first day fearful that he would be summarily terminated.
That impatience was most obvious in the way Steinbrenner ran the baseball side of his team. As he and Gabe Paul built the moribund Yankees back into a contender, free agency arrived. Through the addition of Catfish Hunter, Reggie Jackson, Goose Gossage, and others, Steinbrenner found that he could accelerate the historical maturation process of a team. Forget scouting, drafting, player development, and patience with inconsistent kids: you could buy your stars off the rack. Further, by subjecting the group to the full force of his personality, both in person and in the papers, he could help goad them, football-style, to greater heights.
In the short run, these were valuable lessons that produced postseason teams in 1976, 1977, 1978, 1980, and 1981, with championships in two of those years. In the long term, the lesson was disastrous. The 1970s Yankees had a unique mix of personalities that could thrive under pressure, even though they might greatly resent it. Subsequent Yankees players and managers would not react so positively. When Steinbrenner called Dave Winfield "Mr. May" and criticized the rest of the team in mid-September, 1985, as they fought a close race with the Blue Jays for the division title, rather than win the club went on an eight-game losing streak.
Worse, the steady stream of free agents would fall from the level of future Hall of Famers like Hunter, Jackson, and Gossage as the team grew steadily less discriminating, signing anyone whether they were a good fit or not. Nor could the parade of newly wealthy stars and mediocrities be purchased in sufficient volume to make up for Steinbrenner's distaste for young players, or for the impulsive trading of the few good prospects the Yankees did manage to produce in those days.
It took a long time and some lost year to unlearn the lessons of the 1970s, but unlearn them Steinbrenner did, allowing cooler baseball minds like Gene Michael and Brian Cashman to have more leeway in running the franchise. Occasionally the old impulsivity would return, such as in the August, 1997 deal that returned Mike Stanley to the Yankees in exchange for Tony Armas, a pitching prospect of no lasting importance except that he later was used by the Red Sox to acquire Pedro Martinez, a pitcher who might otherwise have been a Yankee. The acquisition of Raul Mondesi in 2002 and the owner's reported insistence on Gary Sheffield in 2004 instead of Vladimir Guerrero demonstrated that time had only mellowed the man to a degree.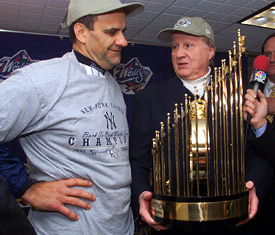 Still, he clearly had changed. Managers, general manager, and media relations directors used to come and go with dizzying speed, but Joe Torre stayed on for 12 years. Brian Cashman is now in his 13th year as GM; the previous leader was Gene Michael with five years—or maybe it was seven, Michael having had the job, and been relieved of it, after the 1981 season. Indeed, anyone who could name all of Steinbrenner's 15 general managers deserves some kind of Yankees Trivia-God citation. The long runs that Torre and Cashman put together would have been impossible just a few years earlier. Even Buck Showalter's four-year run would have been unthinkable just a few years before (and Showalter was let go for good reasons, despite his success in rebuilding the team).
Steinbrenner's legacy is obvious: a team which he bought for relative peanuts is now the most valuable sports property in America, if not in the world; a beautiful new ballpark; seven championships and 19 postseason teams. More than those things, Steinbrenner understood something that should have been an object lesson to his fellow owners decades ago: the best way to build a successful franchise is to put an exciting, winning team out on the field. To compete for the New York City entertainment dollar, Steinbrenner knew his team had to be a compelling, can't miss entertainment. He spent money to get eyeballs, be they on television, on the newspaper pages, in the stands. He knew that in the end those eyeballs would translate into revenue for his team, be it in demand for seats, merchandising, or the most lucrative cable deal in the business, and, ultimately, his own regional sports network. If that meant that he and his limited partners sometimes took home less money at the end of the year, so be it. Comparatively few owners have had such a firm grasp on the basics of baseball: nothing succeeds like success.
About 12 years ago, I first entered George Steinbrenner's office at the old Yankee Stadium. I had read things about that office over the years, that Steinbrenner had had inspirational mottoes on display there: "Show me a man with guts." "Lead, follow, or get out of the way." I didn't see any of those things. What I did see surprised me: countless awards from charitable institutions, many of which benefitted police and firefighters. I was looking for words and I found deeds. I think that gets at the essence of the man: there were words, sometimes too many words, words you would not have had him say. There was anger, frustration, bluster, and yes, sometimes cruelty. But there was also accomplishment. There was an identification with and pride in his team that in these days of transient ownership, corporate ownership, or both, you just don't see anymore. His was a unique and complex personality, but beyond that, he was the last of the old-time baseball owners, the men who lived and breathed baseball. We won't see his like again.
Condolences to the family and the many friends of George Steinbrenner.